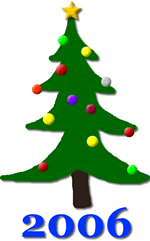 Out of the 637 posts that I scribbled this year, here are the ones that represent the good, the bad, and the fun of our 2006 financial adventure:
The Good
First, I started it off right by making financial goals (which give you something to focus on all year) instead of resolutions (which you end up looking backwards at).
Marriage and money are tightly linked, and behind the scenes this blog has spawned many a discussion about frugality and priorities. This has helped us limit our excess spending by focusing our energies towards a common purpose.
Of course, once you've saved it you still have to avoid the tax man. We maxed out our Roth IRAs and opened up and funded a Self-Employed 401k account. I'm very happy about that.
Finally, through the internet we have also found Modest Needs and Kiva, which give us new outlets to give to charity.
The Bad
Of course, there is always things I need to work on. We are also still on the look out for a method of tracking our spending that works for us, despite finding a bunch of free budgeting tools to help us.

I still need to improve my organizational skills. I believe that good time management is critical to the pursuit of entrepreneurial activities, especially when you are trying to balance a day job and a family in the process. In fact, sometimes I think time management may be more important than talent or skill.
The Fun
Just because one cares about money doesn't mean they don't know how to enjoy themselves. This year, we had the opportunity to travel to San Francisco, China, England, and France. These were amazing trips, and next year we are thinking of Southeast Asia, New Zealand, or Italy.
We couldn't have paid cash for all these activities without the proper mindset. In fact, the whole point of managing money better is to do more of what you like, not less!
In the end, our combined net worth increased $31,781 from December 2005 to December 2006. I can only hope that your year has been as much fun as ours. Happy Holidays!
This retrospective was inspired by the Problogger Review Writing Project.