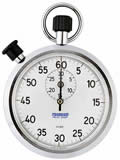 Here's the next installment of my series on New Year's Resolutions that can be done today, and not put off for "some day" in the future. We all know how that usually turns out…
Last year was definitely a roller coaster year when it came to the stock market, and you may have taken the "just don't open the scary statements" solution. Well, it's time to take a peek and see where you stand. I won't pretend that recent performance has been great, but if you made regular contributions throughout, you may be surprised to see your portfolio balance higher than it was in 2007. (Maybe.)
Asset allocation is how your investments are split between different asset classes. The most generic examples are stocks and bonds, but you can also divide them further into categories like large companies vs. small companies, international vs. domestic stocks, or different safety grades of bonds. Other asset classes include real estate, commodities, or precious metals. Your mix of assets has a great impact on the volatility and expected future return of your portfolio.
The easiest way is gather all your most recent financial statements and plug your holdings into the Morningstar Instant X-Ray tool.
(If you want it to remember your portfolio, you must sign up for a free site membership.) The site will then "x-ray" your holdings and break it down by asset class: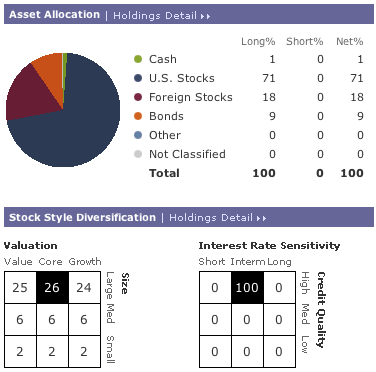 How do I know if my asset allocation is correct?
Well, ideally you would already have set your target asset allocation, and all you would need to do is to rebalance your assets to that target. Rebalancing is a way to maintain the risk/reward balance that you have chosen for your investments, and also forces you to buy temporarily under-performing assets and sell over-performing assets (buy low, sell high). How often one should re-balance their portfolio depends on a few factors. See this post on How often should I rebalance my portfolio?
Otherwise, setting an asset allocation can be a very complex topic. I recently pondered a very general rule-of-thumb where you set your stock percentage to double your tolerable loss in one year. So if you could only stomach a 30% stock, you should only invest a maximum of 60% of your portfolio in stocks.
Here's a big collection of my posts that I did when deciding on my own target asset allocation:
Simplified Theoretical Stuff
Choosing An Asset Allocation
…See the rest of my 2010 Instant New Year's Resolutions here!