I finally got around to updating all my net worth charts and graphics. Here is my net worth since I started tracking it on this blog in December 2004: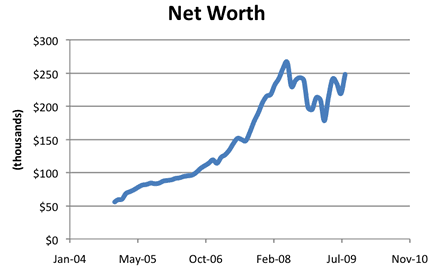 You can also view my net worth since graduating from college in my Net Worth page. You can download my tracking template here.
Since I had all the data handy, I also put together a chart of the value of my retirement portfolio. This is simply the sum of all the money in our 401k/IRA/403b's over the years, including any gains/losses and contributions. Since I did a Traditional-to-Roth IRA conversion a while back, I normalized all the values by taking 30% off of any pre-tax account values. Therefore, the chart is of (estimated) after-tax balances.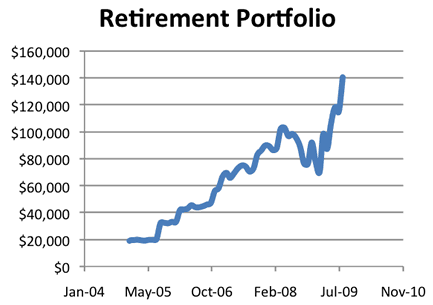 As you can see, my portfolio is small enough that regular contributions have been able to counter the rather mediocre returns over the last 5 years so. The swings in our property value is also contributing to making our overall net worth very volatile recently.
Goal Tracker Chart
I also wanted to update my little goal meter on the top-right of every page. I updated our 401k contribution progress; we are on track to max them out for 2009. My first long-term goal is pay off my home mortgage, so I won't have a house payment anymore. My second is to build a $750,000 investment portfolio. More details here.
At a 4% inflation-adjusted withdrawal rate, a very rough rule-of-thumb, $750k would create an annual income of $30,000 per year ($2,500 monthly). This should cover all our non-housing expenses. At the current $140,000 value, I'd theoretically be able to produce about $467 of "passive" income per month.

I'd like to come up with a better graphic to track these things, but for now I'll stick with the progress bar. Any creative ideas out there?