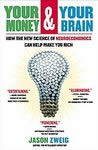 In the book Your Money and Your Brain, author Jason Zweig explores neuroeconomics, which apparently is a mix of psychology, neuroscience, and economics. This book looked like it would be an easy read, but it turned out to be very densely packed with information and data from numerous psychological studies. Truth be told, it got kind of tedious and repetitive, which is why it took me over a month to finish reading it. I think more aggressive editing would have helped this book a lot.
Instead of trying to do an in-depth review, I'm just going to focus on a few interesting points brought up in my favorite chapter titled "Happiness". Isn't being happy our ultimate goal?
If I was rich… I'd be happy. Right?
When you are below the poverty line, then yes, making more money is correlated with happiness and even better health. But as long as you have enough to meet your basic needs, more money doesn't buy very much more happiness. We think it will, but it reality it doesn't. This has been shown in studies comparing African tribal herders with the Forbes 400 Richest People, ones comparing people with $500,000 net worth and those with $10M+ net worth, and even between different generations of Americans:
In 1957, the average American earned about $10,000 (adjusted for inflation) and lived without a dishwasher, clothes dryer, television. or air conditioner. But 35% of people surveyed said they were "very happy" with their lives. By 2004, personal income had nearly tripled after inflation, and the typical house was bursting with consumer goods. Yet just 34% of people now said they were "very happy". Somehow, almost tripling our wealth has made Americans a little less happy – and still we want more.
Chasing Happiness
Similarly, people think that "splurges" or getting that next hot gadget will make them happy. In truth, studies reveal that the anticipation of obtaining that object makes your brain's dopamine levels go nuts and you feel happy. Actually getting it? Not so much. Which leads you to thinking about the next hot gadget… and so on. The "thrill of the hunt", eh?
Keeping Up With Those Darn Joneses
It turns out that your happiness is related money in one way – how much money the people around you have! Social comparison is a very primal instinct in humans and other animals. One theory is that such attention allowed people to imitate the stronger hunters and learn to be more like them.
For example, should you buy the nicest house in a middle-class neighborhood, or a below-average house in the richest neighborhood? Your real estate agent might point out that buying in the rich neighborhood offers the best potential for home value appreciation. But the data suggests that buying in the middle-class neighborhood and getting a bigger house than everyone else will likely make you happier.
A study of more than 7,000 people in over 300 towns and cities found that, on average, the more money the richest person in your community makes, and the greater number of neighbors who earn more than you, the less satisfied you will probably feel with your life.
The relationship between money and our brains is an interesting one. It's good to learn about those innate tendencies, so we can recognize them and react appropriately.