Both the Wall Street Journal and CNN Money recently ran articles about a new study that concluded that American men in their 30s are earning less than their father's generation after adjusting for inflation.
In 2004, the median income for a man in his 30s, a good predictor of his lifetime earnings, was $35,010, the study says, 12% less than for men in their 30s in 1974 — their fathers' generation — adjusted for inflation. A decade ago, median income for men in their 30s was $32,901, 5% higher than 30 years earlier. Ms. Sawhill said she isn't sure why men's wages have stagnated. "It seems there's been some slowdown in economic growth, it's possible that the movement of women into the labor force has affected male earnings, and it's possible that men are not working as hard as they used to."

"The expectation that each generation will do better than their parents has become a fundamental part of what we call 'The American Dream,'" said Morton. "But this new analysis suggests this bedrock belief may be shifting under our feet."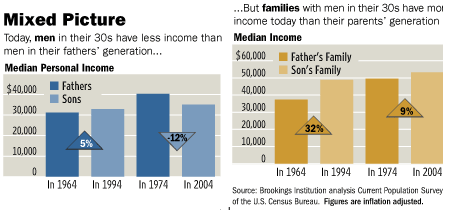 The problem with statistics like this are that they really don't tell us anything. Maybe more men are staying at home to take care of the kids, or are otherwise choosing to earn less money to balance work and life. Maybe the government's method of measuring inflation is inaccurate. Maybe it's due partially to globalization. Maybe it's simply supply and demand – families as a whole are making more to dual-income households. Maybe the blue-collar jobs don't pay as well as they used to. Maybe a 30-year old these days is more likely to have spent an extra 5 years "finding themselves". Don't people get married a lot later these days versus 1974? Ten different people could read these articles and come up with ten different reasons for the income decrease based on their own personal beliefs and experiences.
As for me, I don't really get why it even matters what my father earned? Poor, rich, whatever, all we can do is see what challenges exist now, and work to meet them head on. Even if we earned 50% more than our father's generation, I don't see how that would change my behavior. It just creates excuses and distractions. Am I missing something?