In 1940, the required age to receive full benefits from Social Security was 65. According to chart below, most people didn't even reach 65 at that time. Today, average life expectancies are over 11 years longer (and still rising), yet the full retirement age is only 67. That's a lot of people getting paid out.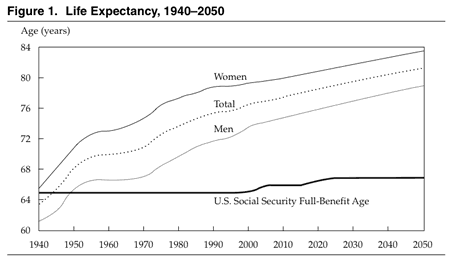 The way Social Security works, taxes from current workers go straight to paying for the benefits of current retirees. Your money is not being "saved" anywhere to be withdrawn later. In 1950, there were 7.3 working-age people for each person over 65; now, the ratio is 4.7 to 1, and it is scheduled to drop to 2.7 to 1 by 2035. That's a lot less people paying in.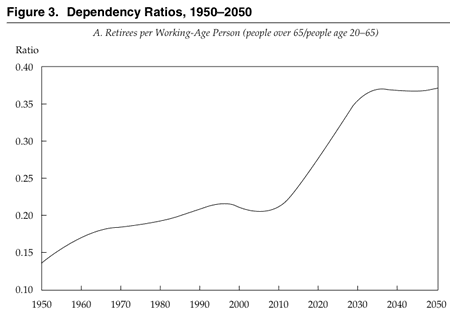 These alarming demographics don't help Medicare either, which has even more problems! The idea of having everyone work for 40 years and then retire for 20 years is going to be very hard to sustain.
The above information was taken from the 2003 paper Demographics and Capital Market Returns, which as the title suggest also talks about the effects on future stock market performance, as well as proposing some potential solutions. Found via Capital Ideas.