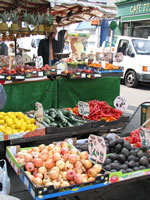 While in Paris, my friends and I decided to have a "nice French meal". While you don't have to necessarily spend big bucks to have such a meal, we were not French, not locals, and therefore we simply dressed up and stumbled into a nearby restaurant recommended by our concierge… and proceeded to have one of the most expensive meals I've ever had.
My previous record was at a restaurant in the San Francisco Bay Area called Chez Panisse. It's won countless awards as one of the top restaurants in the country and is famous for its fresh and inventive California/French cuisine. While I've since dined at both the restaurant downstairs and the cafe upstairs, the prix fixe restaurant was my first and pricier experience.

I can't recall exactly what we had (I was on a date) – I know there was something with chanterelle mushrooms and also a nice risotto. I do remember that my unrefined palate really wasn't all too impressed. I mean, it was good, but not life-changing-moment-of-clarity good.
Price: Over $100 for the meal, including tip.
If you ever visit Berkeley in search of it, I would recommend first trying Cheeseboard Pizza and Gregiore's instead. Top notch food, both with local fresh ingredients, without all the fuss.
Back to Paris – I can't even recall the restaurants name, so I can't even look up to see if it had any Michelin stars. Probably not, as we got out for around $100 each, even with three bottles of nice red wine split amongst us.
The meal totally sounds better in French, but we basically had:
French onion soup
Foie gras on top of a bed of green beans and toast points
Beef braised in a red wine sauce and gratin potatoes
Blueberry panna cotta dessert
Now that was good. Much of the cost was probably the wine, which was also great. We also stayed there for over 4 hours, ha. I thought I took a picture of the food, but I didn't (maybe it was all that wine?). So instead the picture above is one I took of a fruit stand in the Portobello Road market in the Notting Hill area of London.
So those are my only two $100+ meals to date. When I retire early, I plan on eating at the French Laundry ($200-400 easily) to celebrate.
What's the most expensive meal you've ever had?