Actually, a better question is what percentage of your income should you contribute to all types of retirement plans? But the 401(k) plan is one of those cases when you have to choose something to start out with, and many people just never get around to changing it again. Too much, and your cashflow will get tight and uncomfortable. Too little, and you're not taking full advantage of the tax benefits.
Start With The Match
As everybody says, matching contributions from your employer will probably offer the best return-on-investment you'll ever get. Most companies have a cap after which the match stops, and my guess is that most people contribute up to that cap and then forget about it. Certainly, this number provides a floor, but most of us will have to chip in some more to accumulate a happy nest egg. (I've never heard of a match above 6% of pay, although I'm sure some exist.)
Take Into Account Other Accounts Like Roth IRA
The reason people like Roth IRAs is that if you think your tax situation now will be about the same as in retirement, the Roth IRA has a lot of extra advantages like the ability to make early withdrawals for a variety of reasons, as well the ability to never make any withdrawals and leave it to your heirs still compounding away. However, if you have a Roth 401(k) the difference gets a lot slimmer, you may just go with which one offers you better investment choices. Either way, it's good to consider the whole picture.
Mint.com allows you to compare different IRA accounts available online … if you want to see how your IRA stacks up against what's available, you should check them out.
Taken all together, I would say 10% would be good place to start unless you have a pension or other sources of retirement income lined up. But that's just me… what do you think?
Each 1% More Can Make A Big Difference
On top of that 10%, it's interesting to see how much difference nudging it up another 1% can do. I used this Increase 401k Contribution Calculator from Wachovia and ran some numbers. Assuming you make $50,000 gross annually, you're 35, you retire at 65, 8% annual return, and a 25% income tax bracket, here's what happens if you increase your contribution percentage by 1% (unmatched):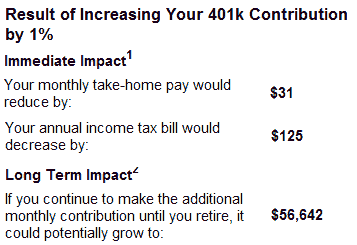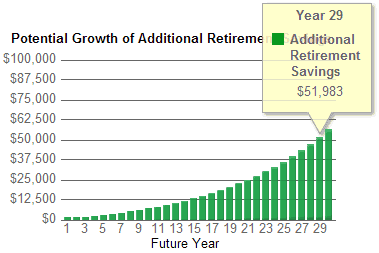 Not too bad for giving up just $31 per month; if you're younger the payoff is even better. (Almost good enough to bump up your contributions by 1% today?) Still, start taking enough $31s out and it'll start to hurt.
Give Until It Hurts?
To find the nice balance, there are a couple of ways to do it:
Analyze your finances, estimate a percentage, and just adjust from there. (More work.)
Start at match %, and keep increasing the % until it starts to hurt.
Start at a high amount (20%? 25%?), and keep decreasing it until your take-home pay is a manageable amount.
Each person probably has a different preference. But again, we go back to the real-life aspect – Will you remember to change your percentages later? Life gets busy, and each month you just keep forgetting and forgetting… In that case perhaps the third option is best, assuming you have some cushion to pay with.