If you haven't been keeping close track of it, your portfolio's asset allocation may have shifted significantly over the past year. Your relative mix of assets like stocks, bonds, or real estate has a great impact on the volatility and expected future return of your portfolio.
Morningstar has a bunch of helpful tools for managing your investment portfolio, but many of them require a paid membership. However, one handy trick is that anyone can use many of these premium features for free at the T. Rowe Price website by signing up for a free account with nothing but an e-mail address.
Portfolio Manager
This tool lets you enter all your portfolio holdings, which it then stores for you and allows you to track it with automatically updated prices. You can either track all your future transactions as you go, or just input your updated holdings every few months like I do.
Portfolio X-Ray
Once you enter your holdings, simply look for the Portfolio X-Ray tab and you'll have a complete breakdown of the true asset allocation of your overall portfolio. Does your "small cap" fund really own a bunch of mid-caps and large-cap funds? X-Ray will reveal your true exposure to stock style (i.e. Small/Mid/Large, Growth/Blend/Value), geographical regions (i.e. Japan, US) , stock sectors (i.e. Telecom, Energy), average expense ratio, and more.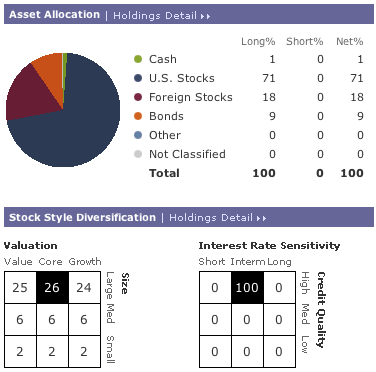 If you'd rather have a quick peek without needing to register at all – but also without the ability to save your portfolio – try the Morningstar Instant X-Ray tool.
If you already have a target asset allocation in mind, now might be a good time to to rebalance your assets back towards that target. Rebalancing is a way to maintain the risk/reward balance that you have chosen for your investments, and also forces you to buy temporarily under-performing assets and sell over-performing assets (buy low, sell high). If you are looking for a bit more guidance, here are my favorite posts on investing.