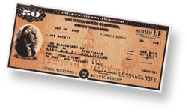 Right now, my portfolio is very cash heavy (almost 50k), as I saving for up a house in crazy-prices land. Accordingly, I am always on the looking for liquid investments that are safe and pay competitive interest rates. So I'm taking another look at U.S. Savings Bonds.
Let?s start with the two types of Savings Bonds that are available: EE and I Bonds. I'll start with characteristics that are the same for both types, and then focus on I-bonds, leaving EE bonds for a later post.

Common to all bonds:
– Backed by the U.S. Government, about as safe as you can get. You will never lose money on a savings bond (ignoring inflation).
– No commissions or fees when selling or buying, start with as little as $25.
– You can buy them online, through most banks, or via payroll deduction.
– You can get them either in paper or electronic form (Paper form not available online.)
– Must hold them for 1 year (well, technically a little over 11 months, more on that later)
– Earns interest for 30 years or until cashed in.
– You won?t pay state or local income taxes ever on the interest. This can be a big different for high tax areas.
– Federal tax on the interest is deferred until you redeem them. This saves paperwork and allows the interest to compound.
– If you use the bonds for college, the interest could be totally exempt. Restrictions apply.
Both I- and EE- Bonds start earning interest from the first day on their issue month, and interest is earned monthly. Which means, if you buy the bond on January 31st, you still will earn interest from January 1st. Nice! Therefore, the minimum you must hold the bond is actually a little more than 11 months, since if you can redeem the bond bought on 1/31/05 on 1/1/06. However, if you redeem the bonds within 5 years, you also face a penalty of the interest paid in the last 3 months.
I-Bond specifics:
I-Bonds are sold at face value – a '$50 I-Bond' costs $50. They earn an interest rate that is the sum of two parts:
– A fixed part that is ?locked in? for the life of the bond when you buy it
– A variable part that changes every six months based on rates announced on 5/1 and 11/1 of each year, designed to track inflation.
If you bought an I-Bond today, you would get a fixed rate of 1.0% (the lowest ever so far) and a variable rate currently at 2.67%. Historical rates and the exact formula can be found here (http://www.publicdebt.treas.gov/sav/sbirate2.htm). The rate changes again on May 1st. Note that there are people that own older I-Bonds with a fixed rate of 3.4%. That means they today they are earning 6.07% on their money ? I wish I had a piece of that!
Because the fixed part of the I-Bond rate is currently so low, many experts recommend that people investing for the long haul go with EE-Bonds, as historically they have paid interest rates an average of 2% above inflation. Recently however, due to the extraordinarily low Fed rates, I-Bonds have had better returns than EE-Bonds.
As for me, I bought $5,000 worth of I-Bonds back in 2003 when you were allowed to buy them with a credit card. This let me earn cash-back on a rewards credit card while buying the bonds. Sadly, this is no longer an options. My fixed rate is 1.1%, 0.1% higher than currently available, so currently I am earning 3.77% on it. Even with the 3-month penalty, that?s still better than keeping it in ING for the same time period if I redeemed now. Even now, Emigrant Direct is only offering 3.25%, and I still have to pay state and local taxes on the interest. Hmm? Next time, I?ll put down some details on EE bonds, and decide whether I should buy any more of either type.