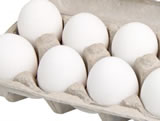 I hate wasting food, but it still happens to me with fresh fruits and vegetables. I will eat leftovers even if it means eating little bits of four different meals at once. Globally, 1/3rd of the food supply is wasted and uneaten, with the rate even higher at 40% in the US. This is bad all over – financially, hunger-wise, and environmentally. At lot of this involves farming, food processing, supermarkets, and restaurants – but it includes us as well. Here are some good tips about how to reduce our food waste by not throwing it away unless necessary.
Marianne Gravely of the USDA Blog writes about double-checking before tossing food from the freezer or pantry:
Food poisoning bacteria does not grow in the freezer, so no matter how long a food is frozen, it is safe to eat. Foods that have been in the freezer for months may be dry, or may not taste as good, but they will be safe to eat. So if you find a package of ground beef that has been in the freezer more than a few months, don't throw it out. Use it to make chili or tacos. The seasonings and additional ingredients can make up for loss of flavor.

What about the foods in your pantry? Most shelf-stable foods are safe indefinitely. In fact, canned goods will last for years, as long as the can itself is in good condition (no rust, dents, or swelling). Packaged foods (cereal, pasta, cookies) will be safe past the 'best by' date, although they may eventually become stale or develop an off flavor. You'll know when you open the package if the food has lost quality. Many dates on foods refer to quality, not safety.
Alexandra Sifferlin of Time.com reaffirms:
Most consumers mistakenly believe that expiration dates on food indicate how safe the food is to consume, when these dates actually aren't related to the risk of food poisoning or foodborne illness. […] Eggs, for example, can be consumed three to five weeks after purchase, even though the "use by" date is much earlier. A box of mac-and-cheese stamped with a "use by" date of March 2013 can still be enjoyed on March 2014, most likely with no noticeable changes in quality. […] A strawberry-flavored beverage may lose its red color, the oats in a granola bar may lose its crunch, or the chocolate clusters in a cereal may start to 'bloom' and turn white. While it may not look appetizing, the food is still safe to eat.
Maggie Caldwell of MotherJones adds:
Nine out of 10 Americans needlessly throw away edible, unspoiled food based on "use by," "sell by," and "best before" labels, according to a report released today by the Natural Resources Defense Council and Harvard Law School. […] Learning some of the tips that our grandparents used could be helpful too. For instance, this rule of thumb for eggs: If it sinks in a bowl of water, it's good; if it floats, toss it out. Obviously, you want to toss anything that looks or smells rotten. In short, trust your senses, not the labels.