I just filled up my tank for the least amount of money in a long time. When I first wrote about hedging against rising oil costs, the national average was $3.70/gal and headed towards $4/gal. Now it's around $2.15. Remember when we were all afraid of $5 gas? Which got me thinking, perhaps now is a good time to reconsider hedging gas prices?
Example scenario: If you drive 12,000 miles per year and your car gets 25 MPG, that means an annual fuel bill of $1,920 with $4 gas. But with $2 gas, your annual bill is now only $960. Makes sense, a doubling of price from $2 to $4 again will lead to a doubling of cost – nearly $1,000 per year.
Now let's say you buy $1,000 of one of the two major oil ETFs tracking crude oil prices, USO or OIL. (Use a broker with free trades.) If crude oil prices jump again, then the value of these stocks should roughly rise to compensate. If $4/gal comes back, your annual fuel bill would rise by $1,000, but your oil futures stock should also rise by $1,000. You're virtually fully hedged this way, even if gas goes to $6/gal or higher.
So I suppose being fully hedged means buying as much oil ETF annually as you spend on gasoline in that time. Effectively, you are buying a year's worth gasoline ahead of time and locking in that price. If gasoline wasn't so difficult to store for long periods, you could do this manually.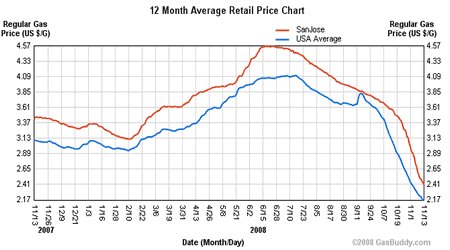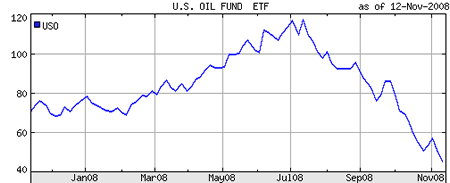 Now, there is no free lunch here. If gas prices drop even further, then you won't be able to benefit from cheaper gas either. A drop to $1 gas would leave you missing a savings of $500 per year, although I have a hard time seeing it drop that far.
Cost of hedging. Don't forget, you could have invested that $1,000 somewhere else. If you assume an annual return of 8%, that's a missed opportunity cost of $80 per year. Of course, we all know now that assuming stable 8% returns is not good. If it would have been held in a bank instead (a more likely scenario), then a 3.5% APY leads to an annual cost of $35, or $3/month.
Hedging is about having a price that you are comfortable paying, so that you don't have to worry about unexpected price swings. Usually, it is also the case that you are more afraid of a potential rise than a potential drop. Gas prices have been one of the more volatile parts of our budget, and we could use this period of lower prices to build your hedge. Is it worth paying $3/month for such a hedge? I'll let you decide.