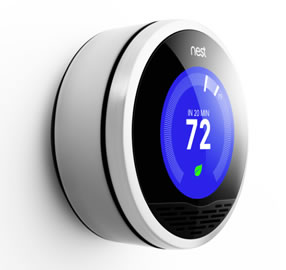 What happens when a former Apple executive and other top geeks focus their energy on a… thermostat? The Nest Learning Thermostat. I just finished a neat Wired magazine article about this new gadget, which hopes to make saving energy both trendy and hassle-free.
First, it looks like something Apple would make. When the heat is on, it's red. When the A/C is one, it turns blue. You use it like any other thermostat, turning it up and down whenever, and it'll even show you how long until you get there. What's wrong with existing programmable thermostats? For one, they are often so hard to use that half of them aren't programmed at all. A study actually showed that programmable thermostats used more energy than non-programmable thermostats, which led to the EnergyStar label being pulled for all of them.
How is it better? If you're being efficient, you get rewarded with a little green leaf icon, nudging you towards more savings. It learns your habits, and uses that to minimize your energy use. If you forget to turn it down on a weekend getaway, it will fix that for you. Or, you can jump online and set it yourself, since it connects via WiFi and stores your energy consumption patterns online. It even has motion detectors built in so it knows if people are around, and it lights up when you approach it. All with just the trickle of power that a normal thermostat gets.
It also costs $249, much more than competing beige thermostats. It's supposed to pay for itself in two years, so that's a savings of $10 a month. If it reduces your usage by 20%, that means your current bill should average at least $50 a month.