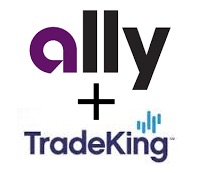 Last week, Ally Financial announced that they are acquiring TradeKing. What made this interesting was that they didn't refer to TradeKing as a discount brokerage firm, but a "digital wealth management company". This another move from independent start-up (TradeKing merged with Zecco earlier) to big, corporate "bundle". The traditional communications bundle includes TV, home internet, home phone, cellular phone, and cellular data. The new financial bundle will include:
Checking account – Daily cash management, paycheck target, online bill payment, ATM access, debit cards.
Savings account – Liquid savings, higher interest rate.
Credit card – Easily-accessed credit line.
Self-directed brokerage account – DIY investments including individual stocks, options trading.
Professional portfolio management – Managed accounts including advice regarding asset allocation, taxes, retirement income, and more. Both lower-cost robo-advisor and higher-touch human advisor platforms.
Here's my opinionated rundown on some of the bigger firms in this new area. Some of the "pros" aren't that strong, and some of the "cons" aren't that bad, but it helps organize my thoughts.
Ally Financial / TradeKing
Pros: Competitive interest rates on checking and savings, ATM fee reimbursements, $5 brokerage trades.
Cons: No physical branches. No credit cards (yet). Robo-advisor program is still relatively small and new.
Bank of America
Pros: Huge physical branch and in-house ATM footprint. Merrill Edge commission-free trades starting at $25k minimum asset balance, $6.95 trades otherwise. Credit card rewards bonus with minimum asset balance.
Cons: Low interest rates on banking products. Merrill Lynch advisor network is big and uses traditional fee system, so I'm not a huge fan but others may like it. No robo-advisor program (yet).
Fidelity
Pros: Decent cash management account with ATM fee reimbursements, selected commission-free ETFs, somewhat limited but low-cost index fund selection, $7.95 trades otherwise, 2% cash back credit card.
Cons: Low interest rates on banking products, human-based Portfolio Advice is relatively expensive and pushes expensive actively-managed funds. Lower-cost robo-advisor is probably coming soon, but yet released.
Schwab
Pros: Decent cash management account with ATM fee reimbursements, commission-free Schwab ETF trades with low-cost index options, $8.95 trades otherwise, 1.5% cash back American Express, low-cost robo-advisor via Intelligent Portfolios.
Cons: Low interest rates on banking products.
Vanguard
Pros: Large selection of low-cost funds and ETFs, commission-free Vanguard ETF trades for all, $7 non-Vanguard ETF/stock trades (or less based on asset level). Portfolio advice includes robo-component plus available human representative.
Cons: Limited availability and features on banking accounts. Limited portfolio support for buying non-Vanguard products. No credit cards.
I still believe that the self-directed investor is best off picking individual products a la carte, but it will be interesting to see how things change in the coming years. Each financial mega-institution will likely improve upon their weaknesses, and offer significant perks and discounts for keeping all your money with them.