Always the procrastinator, I finally sold some shares of my punished mutual funds and ETFs in order to do some tax-loss harvesting. There are only two days left in 2008!
What is Tax-Loss Harvesting?
The main idea of this tactic is to legally pay less taxes by taking advantage of the fact that losses are taxed at potentially different percentages than gains are.
The IRS lets you claim a deduction for investment losses against your ordinary income, up to $3,000 each year. (If your net capital loss is more than this limit, you can carry the loss forward to later years.) For example, if you lose $3,000 on an investment, and you realize that capital loss by selling the stock or fund that incurred the loss without realizing any capital gains in the same year, you can claim a $3,000 deduction on your income tax return. This means you won't have to pay income tax of up to 35% on $3,000 of your income that you would've had to pay otherwise.
On the other hand, a realized capital gain of $3,000 which you held for at least a year would only be taxed at a maximum of 15%. Therefore, although losses are still undesirable, if we plan on holding the investment for at least another year, we should "harvest" all the losses we can get.
Expanded Example
Taken and edited slightly from a older post:
Scenario #1: You are in the 28% tax bracket. Say this year you bought $10,000 of IVV, an ETF that tracks the S&P 500. In 2006 it drops to $9,000, and in 2007 it rebounds to $11,000 and you sell. You'd have a long-term gain of $1,000 from your original $10k, so you pay 15% in taxes ($150), and end up with $10,850 in your pocket. Net gain of $850.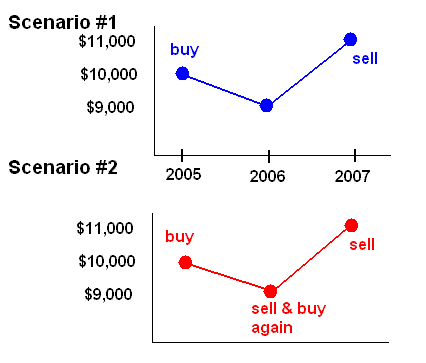 Scenario #2: Same 28% tax bracket, same start period. You buy $10,000 of IVV, and in a year (2006) you sell at $9,000, and the very same day you buy IWB, an ETF that tracks the Russell 1000 Index, but is very similar (but not identical) to the S&P 500. Since it tracks very closely, your $9,000 of IWB in 2006 will also rise back to $11,000 in 2007. After a year and a day, you sell your IWB for $11,000.
Now in 2006, you had a capital loss of $1,000 from your IVV. So you deduct $1,000 from your ordinary income taxed at 28% and save $280 in taxes. That's $280 in your pocket. Then, in 2007 you realized a long term capital gain of $2,000. You pay your 15% tax ($300) and you end up with $11,000 – $300 = $10,700. Add in your $280 from the last year, and you end up with $10,980.
This time, even though you had basically the same level of market risk, you obtained a net gain of $980.
Substantially Identical?
Note that you must do this with similar, but not "substantially identical" investments. For example, you can't buy IVV back again right after selling it and try this. That would be called a 'wash sale' by the IRS.