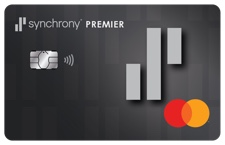 The Synchrony Premier World Mastercard is a rewards credit card that earns 2% cash back on every purchase with no annual fee. There are no rotating categories, activation deadlines, no earning caps, or miles/points to redeem. It was previously invite-only, but is now open to public applications subject to credit approval.
Here are a few minor but notable ways that make this 2% cash back card unique from the competition.
Cash back is credited automatically to your statement every month. Other competitors may require you to accrue either a minimum like $25 before you can redeem, or require you to manually request the rewards. With this card, your cash back gets credited to your statement every month, automatically. You don't have to do anything.
World Mastercard perks. As a "World Mastercard" – a notch above the standard Mastercard – it includes a few unique benefits that most other 2% cash back cards don't have. These include cell phone protection, DoorDash, Lyft, and Shoprunner benefits. Details at the World Mastercard official page, but here the perks I found most useful:
Cell phone protection. World Mastercard comes with $1,000 in yearly coverage ($600 max per claim, 2 claims per year) should your cell phone get stolen or need certain repairs. Simply pay for your cell phone bill with your World Mastercard to activate coverage. There is a $50 deductible.
DoorDash DashPass perks. Get free delivery, reduced fees and exclusive offers with DashPass, the monthly subscription service from DoorDash. New members get 3 free months of membership. In addition, World Mastercard DashPass members get $5 off their first 2 orders per month until 9/30/2022. Details.
If you aren't into chasing bonuses or maximizing the value of points and miles, I recommend that everyone get some sort of flat 2% cash back credit card. Many people I know who prefer simplicity use a debit card with at most 1% cash back, while they could be earning double the cash back while getting better consumer fraud protections and still paying off the balance each month. For example, $2,000 in credit card spending a month is easily calculated at $40 month in cash back rewards, or $480 a year.
If you do like juggling multiple rewards cards, it's still good to have a 2% cash back card as your "catch-all" back-up card. Traditional, for me this has been my Citi Double Cash card.
Bottom line. The Synchrony Premier World Mastercard offers 2% cash back on every purchase with no annual fee. This simple, flat structure minimizes any work on your end – even the cash back is automatically credited to your statement every month.