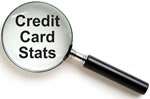 You've probably heard that the average American has over $8,000 of credit card debt. It's been quoted all over the place. But does that single stat accurately explain the whole picture?
A popular source of this data is CardWeb Inc., which tracks such credit card data. Let's take their 2002 data, which says that American households had average credit card debt of $8,940. Wow! But look closer. This figure is arrived at by dividing total credit card debt outstanding at the end of 2002 ($750.9 billion) by the number of American households that have at least one credit card (84 million). So not only are you counting balances that will be paid in full within the grace period, you are also only dividing by just the households that have a credit card. There are 21 million families with no credit cards at all.
Instead, I think you should only take the the amount of debt that Americans actually paid interest on, and divide it by all American households. To me, this is a more accurate definition of "average credit card debt per American". This is $612 billion divided by 105 million, or $5,829 per household. And that's not all.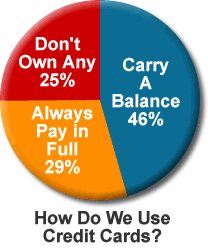 Another source of information is the Federal Reserve's Survey of Consumer Finances (SCF). Here, the 2004 survey found that the average (mean) balance for those carrying a balance was $5,100, but the median was only $2,200. The large difference between the mean and median values indicates that the debt is not spread around equally – a small amount of borrowers have the majority of the debt. In addition, only 46% of families actually carried a balance, and 25% of families don't even have any credit cards at all.
Now, what is the relationship between debt and income level?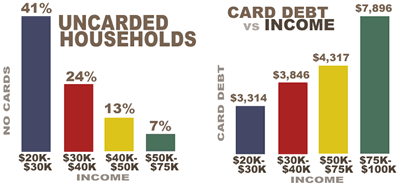 (This is actually based on Cardweb data, but the SCF data is very similar.)
Here, we see that as income increases, people are more likely to both use credit cards and also carry higher balances. But from a recent Gallup poll, while the overall debt-to-income ratio among credit card holders is 8.0%, it is over 10% among people earning less than $40,000 a year, and much smaller among people with higher incomes.
Also, I observed that the Federal Reserve total debt numbers are lower than the Cardweb numbers, but the other stats like card ownership and the distribution vs. income are very similar. I suspect that one major reason for this is the self-reported nature of the SCF: People are underestimating their debt due to either denial or embarrassment. So that $2,200 number above may be higher in reality, but still not as high as $5,000 or $9,000.
Summary
On one hand, you cannot refute the fact that credit card debt is indeed a huge problem for many families. Any way you cut it, $612 billion is a big number. And the families with the highest debt-to-income ratios are earning less than $40,000 a year. I think better education and more transparency in credit applications should be implemented.
However, many of the sound bites thrown around about credit cards are very misleading. The majority of households don't pay any credit card interest at all. None. Zero. Zilch. Of the families that do carry a balance, the median amount owed is in the neighborhood of $2,000-$3,000. Paints a different picture, doesn't it?
(Yes, people like me who profit from credit card debt probably skew the stats a little tiny bit as well. 😛 )
References
The idea for this post was taken from an older MSN Money article, which used 2001 data. You can find the 2004 Survey of Consumer Finances here, and the Cardweb data here.