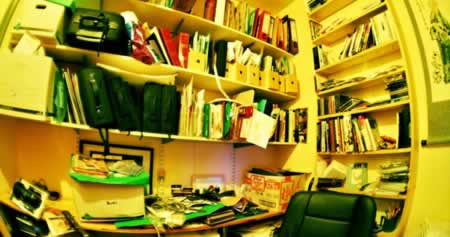 I spent most of today going through all our stuff to see what would go in the house. The one negative of having your employer pay for relocation costs is that you are less motivated to fully purge all of your belongings…
As I went through all our things, I wondered – What if we were forced to toss anything that we hadn't used in one year? Clothes, sports gear, electronics, books, magazines, trinkets. Either sell, donate, freecycle, or throw it away. Critical things like birth certificates or anything that would fit on a hard drive would be exempt. Imagine what your home would look like if you did this…
I don't know if I could pull off that "One Year Rule", so instead I made up an alternate one for myself: Once every May I will unpack every single item in storage, consciously make the decision to keep it, and inventory it. Theoretically this would be for insurance records in case of loss, but realistically I am hoping this actual process of having to go through 10 boxes of stuff annually will make me less sentimental about things like my old textbooks.
A few years I ago banned all travel souvenirs except for photos and one postcard from each place I visit – instead of those odds and ends I used to keep accumulating – and it's been very liberating.
Forget carbon footprint… What kind of tips or tricks do you have for convincing yourself to reduce your stuff imprint?