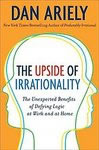 Author and professor Dan Ariely has gained fame from being able to make his behavioral economics research accessible to the general public. We all want to understand better why we do what we do. His newest book is The Upside of Irrationality. You can read sample chapters from his books for free via the eBook Taste of Irrationality.
One of the problems he's trying to address is saving for retirement. Why do so many people save less than they need to? Here's what Ariely says, via a recent interview on the Betterment blog:
The world around us (wants) us to spend money now. The incentives (to spend) are always very high. It's hard to resist that, and sadly, after being tempted towards spending, spending, spending, what we have left for savings is not enough.

Investing is between now and later. It's about the trade off, and because people are not making these trade offs correctly, we're basically in the (bad economic) situation that we're in.
Money is fungible. Any time you spend money on anything, it could be spent on something else. The $10 lunch, the $1,000 TV, the $20,000 car. We all know this is true, but in practice we tend to weigh things differently. Here is a thought experiment taken from a recent talking engagement (paraphrased):
Imagine being presented with the decision to either by a $700 Sony speaker set or a $1000 Pioneer speaker set. Most people go for the better and more expensive Pioneer speakers.

Now, what if the same people were instead presented with the decision between the $700 Sony set + $300 in CDs and DVDs or a $1000 Pioneer speaker set? Ariely found that now most people go for the Sony set and music package.

Why? It's easier to imagine the value of $300 of CDs as opposed to the diluted value of $300 spread across all the possible things in the world to buy.
Perhaps it would help us to remember a list of things at different price points that are really important to us, so that we can better judge our daily spending. For example, if I really enjoy my daily $3 coffee, then I could think of other small purchases in terms of giving up that coffee. Now, getting everyone to agree to delayed gratification is something for which I don't think there is a simple solution.