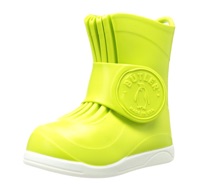 We are currently planning a 4-week European trip with our young children (age 1 and 3). The most common reactions are "Cool. Wait, you're not bringing the kids, are you?" followed by "You're nuts." At first, we didn't think it could be done either. It does take a lot of additional planning for car seats, cribs, kid-friendly itineraries, and so on.
While doing some research at a site called My Little Nomads, the author shared a quote by Seth Godin:
One of the under-reported stories of the internet is this: it constantly reports on what's possible. Somewhere in the world, someone is doing something that you decided couldn't be done. By calling your bluff and by pointing out the possibilities, this reporting of possibility changes everything.

You can view this as a horrible burden, one that raises the bar and eliminates any sinecure of comfort and hiding you can find, or you can embrace it as a chance to stretch.
That is a great quote that encapsulates why I love the internet. If you want to start your own niche business, pull off home-cooked weeknight meals, take your house entirely off-grid, semi-retire at age 40, or just take your tiny kids on an adventure – someone out there has probably already done it. You may even find an entire online community ready to help you reach your goal. There will be doubters, but all you need to know is that it's possible.