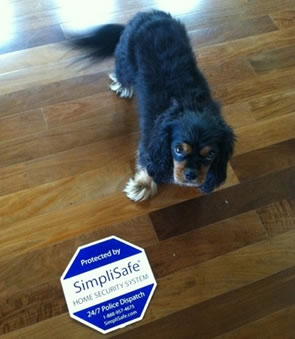 Old security system vs. New security system
I've never had a security system until now, other than our dogs which are all bark and no bite. I suppose the main reason for that is that I didn't own enough property to be worth protecting. Burglars could take everything and it would perhaps fetch $600 total on Craigslist, which is less than what a year of ADT monitoring fees might cost.
Combine the baby nesting instinct with a rash of recent break-ins in our quiet neighborhood, and my mindset has changed. I wanted a home security system, but I didn't want to pay $60 or even $30 a month for monitoring. The monthly bill is where companies make most of their profit. $60 a month = $720 a year = $7,200 over a decade.
After some research, we settled on a company called Simplisafe. Here's a list of reasons why we chose it:
Wireless. Simplisafe uses GSM cellular technology, which means you don't need a landline (which can also easily be cut by a criminal). Wireless monitoring was a requirement for me, and usually costs extra with other brands.
Affordable up-front cost. The total cost of equipment was about $400 to completely cover my 2,000 sq. ft. house. You could probably cover an apartment or condo for $200-$300.
DIY Installation. You order it, and install it yourself using the included 3M sticky tape. No drilling holes. Installation literally took less than half an hour. (Their YouTube video has it done in one minute.) If I moved, I just remove the sensors and buy some new sticky pads for $10.
Affordable monitoring fee with no contract. Again, the monthly fee is where your cost over time adds up, and you're usually stuck in a 2 or 3-year contract. Simplisafe 24/7 monitoring is only $15 a month with no contract. You can add instant text message alerts for an optional $5 a month. That's is pretty much as cheap as UL-listed monitoring will cost. If you prefer, you don't have to buy monitoring at all and you'll just have a loud audible alarm (you can also buy extra sirens) which may be adequate for condos and apartments.
Battery-powered. The base station has a rechargeable battery that will last up to 8 hours in a power outage. All the rest of the sensors use their own individual lithium battery. This means the entire system will work in a power outage or if the power is cut on purpose.
Expandable. Everything is a la carte on the website, so you buy just as many sensors as you need. They recommend a contact sensor for each entry into the house, and motion sensors to cover important areas.
UL-listed 24/7 Monitoring. On a cheap system, I imagined the monitoring system to be two minimum-wage employees taking turns in an apartment. But Simplisafe is certified by United Laboratories just like ADT and commercial fire alarm systems. Central station monitoring is provided by AMCEST Corporation (UL #S2299). This may also make you eligible for a discount on your homeowners or renters insurance.

Also see short write-ups in NY Times and CNN Money.
I'm happy with the system, and it's been in use for over 30 days. I often forget to disarm the system before I get home, so when I get home I get warning beeps and have to enter the PIN into the keypad or use the key fob within 30 seconds. If I didn't, they would call a listed phone number and ask for the secret passphrase, otherwise they would call the police. I don't see how anyone could enter the house and take something valuable without setting off at least one sensor and having the police within a minute along with a loud alarm. Even if someone breaks in and immediately breaks the base station, the signal is already sent. When you're at home, there is a "Home" setting where the contact sensors are armed but the motion sensors are not. We also purchased a "panic" button to place by your bedside for instant alarm activation.
I would say that one thing I'm worried about is that I am depending on the system to tell me if/when the individual lithium batteries run out of juice. But the base station makes a little beep whenever one of the sensors is set off, so you know it's still working. The lithium batteries are supposed to last 5 years. I also do not get video monitoring. I could buy an additional DVR setup from Costco for a one-time cost, but I'm really not interested in that much surveillance. Finally, depending on your area you may need to file for a security system permit with a small fee.
For now, I'm paying the extra $5 a month since I like getting text messages whenever the system is armed and unarmed. You'll also get an alert if there is a power outage or any sensor is set off. I might get rid of it once the cool factor wears off and I trust the system more.
You can get 5% off a Simplisafe system with code SAFENOW or $25 off with code LM25OFF (better unless your total is over $500).
Note: I bought the original Simplisafe. They just announced Simplisafe 2.0 for pre-order which has a few more features like a smartphone app and fancier sensors like glass breakage and carbon monoxide. The basic setup and technology is still the same, but you need the 2.0 base station to take advantage of the new features. However, the 2.0 costs $25 a month, so I'm sticking with the original for $15 a month.
If you already have a home security system, I would recommend looking into switching to a cheaper UL-listed monitoring service once you are out of contract like NextAlarm.