"Sell in May and go away" is a rhyming market-timing slogan that may never… go away. Here's a graphic that seems to support the idea that stocks have historically performed much worse between May and October than the rest of the year. Credit to Reuters/Scott Barber via Abnormal Returns. Data set is the MSCI World Index from 1971-2011.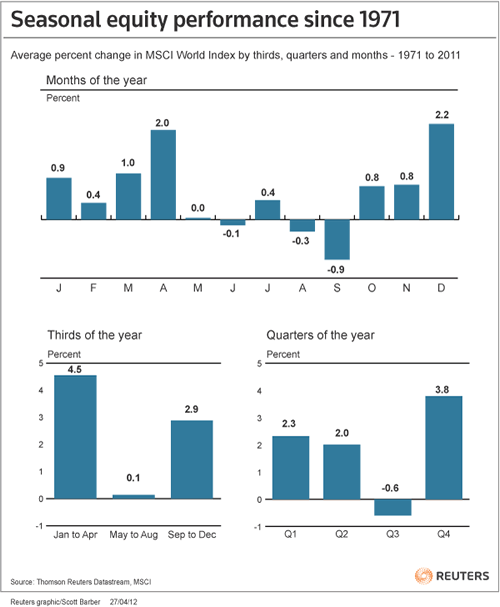 Meanwhile, The Big Picture shares a bunch of graphs from TheChartStore that don't make it look so clear-cut. Looking at this one, why shouldn't just bail out every September? Data set is the S&P 500 from 1928-2011.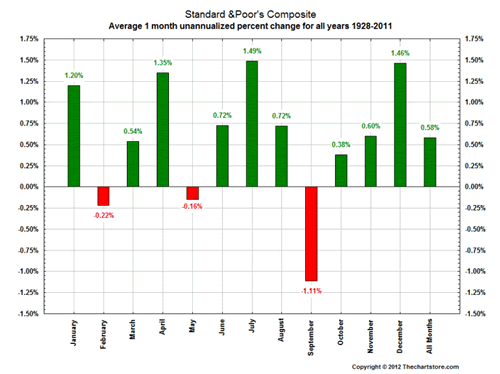 Larry Swedroe tests the theory out using 30-day Treasury bonds as the alternative investment in this CBS Moneywatch article:
He looked at returns through 2007 from six start dates since 1950. "Sell in May" beat "buy and hold" if you started investing in 1960, 1970 and 2000, but not if you started in 1950, 1980 or 1990. "It's pure randomness," Swedroe says. "How would you ever know when to start?"
Throw in the tax implications of all that buying and selling, and I agree. Do you really want to base your investing strategy on a data-mining result that has no logical explanation behind it? Sounds too much like driving a car using only your rearview mirror.
However, Tadas Viskanta of Abnormal Returns has what I think is a reasonable compromise – what if you just decided to rebalance your portfolio at the very end of April and the very end of October? You should rebalance your portfolio regularly anyway, so why not do it twice a year, six months apart. If your target asset allocation is 70% stocks/30% bonds and now you're at 80/20 due to the recent run-up, why not go back to 70/30. If things end up at 60/40 in November, then again, go back to 70/30.
You could call it "Remember to Rebalance in May and November". It even rhymes! If "sell in may" really works, you'll get some benefit from this mean reversion wackiness. If it's just noise, you portfolio shouldn't theoretically be hurt any more than picking other months.