If you have an account with online broker Scottrade, or are thinking of getting one, this post is about moving funds in and out of your account. Like many brokers, the interest paid on idle cash sweep balances is very low at Scottrade, so it doesn't pay to keep cash there. Here's a current interest rate schedule from my account page: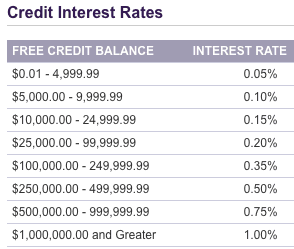 Many other online brokers I've used like Zecco or TradeKing have online ACH deposits/withdrawal systems similar to online banks, but moving money around with Scottrade is a bit different, although in some ways it is also better.
Deposits
Scottrade has a service called MoneyDirect for electronic deposits. It is similar to most online bank transfer systems in that you just need the routing and account numbers for setup, but only allows one-way transfers from external bank to Scottrade.
However, a useful feature about the MoneyDirect system is that you can make instant, same-day deposits. So I can leave minimal cash in Scottrade, but if I wake up one day and want to make a trade, I can move up $100,000 into my account with just a few clicks during market hours. From the site:
New and existing clients will be given credit for the transfer the day it is requested, as long as the request is made prior to 8:45 p.m. (ET) Monday through Friday. Transfer instructions received on a non-business day or after the specified cutoff time will be processed the next business day around 6:00 a.m. (ET).
Restrictions: Funds deposited through Money Direct cannot be used to purchase stocks under $4, any unlisted stocks, any options, or any stocks that are deemed non-marginable by Scottrade until the third business day after the deposit.
Withdrawals
I've had an account with Scottrade for years, but despite vague promises, moving money out electronically through them is still unavailable. However, there is a workaround. If your account has a minimum account equity (cash + stock value) of $5,000, you can request checkwriting capability on your account. With checkwriting, you'll have a checking account number and routing number that you can use to link to other financial institutions.
If you use certain banks using CashEdge, you can look for the "investment accounts" options as shown here. Scottrade is one of the participating brokers, although you still need your checking account number.
Scottrade will provide you a free Visa debit card and 50 free checks. My checks are through UMB Bank. I've gone below the $5,000 level and kept my check writing ability, so even if your account is usually smaller, it may be worth it to reach $5k temporarily to qualify for this feature. In addition, you can now access your money by writing yourself a check, using the debit card for a purchase, or making an ATM withdrawal.
Read my Scottrade review for more tips and my account opening experience.