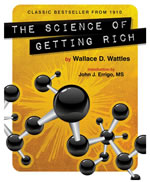 I saw that a book called The Science of Getting Rich was temporarily free at the Amazon Kindle store, so I checked it out as with most financially-related titles. Surprisingly, it had over 300 reviews with a 4.3/5 star rating, quite rare for a free eBook. It turns out that this specific eBook is a bit of a "recycling" job done by someone else on the original 1910 book The Science of Getting Rich [Wikipedia] by Wallace Wattles. I guess if you keep the original book but add a bit of your own content, you can add yourself as an author and charge money for it. The original book itself is old enough that the copyright expired and is now in the public domain. You can get a completely free copy of the book in various formats from Archive.org.
Further digging reveals that this book is the basis of the popular book The Secret by Rhonda Byrne, which was made into a bestseller after being recommended by Oprah Winfrey. Both books talk about the power of positive thinking and visualizing your goals. Now, I can already tell that some people will hate this book and some will love it. I'm usually the one to call this sort of thing "fluffy mumbo-jumbo" as I'm more of a practical nuts-and-bolts type of person but I can't deny that it has helped some other people. (Just don't pay hundreds of dollars for this type of thing…) Here's an excerpt:
People must be taught to become rich by creation, not by competition. Every man who becomes rich by competition throws down behind him the ladder by which he rises, and keeps others down; but every man who gets rich by creation opens a way for thousands to follow him, and inspires them to do so.
The book is short, only about 70 pages.