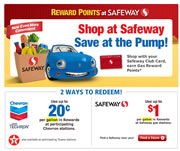 Depending on your area, Chevron, Texaco, Exxon, and Mobil gas stations are new partners with Safeway's gas rewards program (Exxon/Mobil link). This may be good news to those who shop at Safeway supermarkets but don't have any nearby Safeway gas stations.
The gas rewards program works using their free Safeway Club card. For every $1 in purchases, you get a point. Every 100 points gets you 10¢ off per gallon on a single fill-up (25 gal max) at a participating Chevron, Texaco, or Safeway gas station. You can stack rewards for up to 20 cents off per gallon at a Chevron/Texaco, or up to $1.00 off per gallon at a Safeway/Exxon/Mobil gas station.
So if you spent $200 at Safeway/Von's over time, you'd get 20 cents off a gallon. With a 15 gallon tank, that's a $3.00 savings = a 1.5% rebate. Not bad, considering it doesn't cost anything and you can still use your cashback credit cards to get additional rewards. Chevron's regular gas prices may be higher than other places, of course.