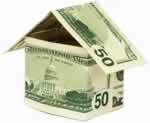 With my new fat mortgage, I'm considering whether to also take out a Home Equity Line of Credit (HELoC). This is not a home equity loan where you take out a lump sum at a fixed rate, but is a line of credit usually at a variable rate. I think of it as a credit card that is secured by my house (!). I don't plan on actually using it, but I think it might nice to have around as long as the upfront costs to me are minimal. Here's why:
Safety Net / Emergency Funds
Although having adequate emergency funds in cash is always preferable, it is nice to know that you have a HELOC as a backup in case of prolonged job loss or health problems. It's always better to line up credit ahead of time while you have good credit rather than when you are already desperate. Using a HELOC can be preferable over paying sky-high credit card interest or falling behind bills (late fees, damaged credit score). Ironically, you might even use it to temporarily keep current on your mortgage to avoid penalties or even foreclosure. Let's hope not.
Cheap and Flexible
The nice thing about a HELOC with no fees is that if you don't take any money out, you don't pay anything. And because the money is secured by your home, this assurance makes your interest rate relatively low. The rate is usually close to the WSJ Prime rate, which is currently 6% APR. On top of that, your interest paid might even be tax-deductible.
The interest is accrued daily, which makes it good for quick loans. So if you do need to take out $10,000 on short notice and you don't have the cash on hand, using a HELOC might be the most economical way to do it. At 6%, your interest owed on $10,000 is only $1.64 a a day. Of course, for many folks this convenience might just provide too much temptation. All debt can turn into a double-edged sword. Know thyself, is all I can say.
Tool for Credit Card Profit Games
Here's a trick to go along with making money with 0% balance transfers that is a good example of that flexibility. With certain credit card issuers it can be difficult to turn your balance transfer into cash in your pocket, especially when you have no existing balances. But here's an example of how to use your HELOC to extract $10,000:
Request a balance transfer from your 0% APR credit card for $10,000 directly to your HELOC. Since this is loan they won't mind at all.
Shortly before the balance transfer is scheduled to arrive, write a check for $10,000 from the HELOC to your interest-bearing bank account. Now you have created a temporary $10,000 debt at 6% and $10,000 bank balance earning ~4% (minus some possible lost days of interest).
When the balance transfer payment arrives a fews days to a week later, your HELOC debt will be paid off.
A week's worth of interest at 6% APR ion $10,000 is only $11.50. And that is partially countered by interest earned in your savings account.
Voila! For around ten bucks, you now have $10,000 at 0% APR in your bank account to do as you wish. 😉
Finding a HELOC – What To Look Out For
Now, I don't want a home equity line if it's going to cost me a bundle. Here's a quick rundown of important factors when looking for a HELOC, based on an article by the Mortgage Professor.
Introductory rate and period. Temporary teaser rate to suck you in.
Margin. This is usually how your non-teaser interest rate is determined, relative to the Prime rate.
Minimum draw. How long can you take money out?
Required average balance. Do you have to take some money out?
Upfront lender fees. These days, you should be able to eliminate these.
Upfront third party fees. Harder to get waived, but try.
Annual fee. Just say no, again. Sometimes only waived for first year.
Cancellation fee. Many have these, I guess so you don't bail and go to another bank. This is especially the case if they waive all the upfront costs above, since they are losing money on you so far. As long as you can keep your balance at $0 with no fees, just keep it open and don't use it.
I see a lot of competition out there now that rates are low, so definitely shop around. As a data point, I just saw a special offer from Bank of America for a no closing cost, no application fee, no annual fee HELOC. Don't forget to try your local credit unions as well.