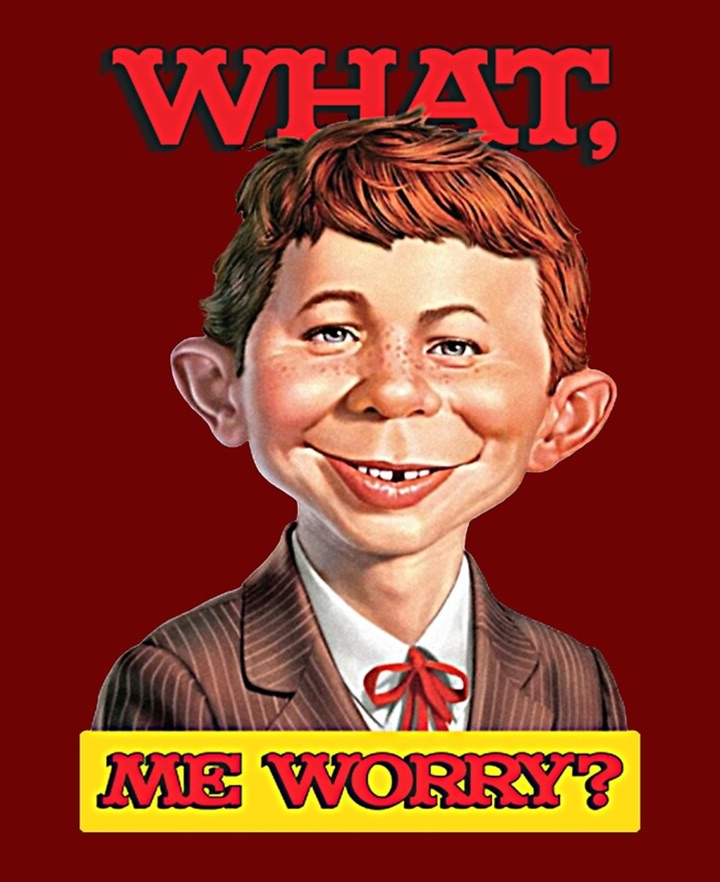 I'm probably dating myself using the image above. How old do you have to be to remember when MAD magazine was popular? In retrospect, the magazine served a very important purpose, which was basically to show kids the many tricks out there and how to be less gullible. From Robert Boyd of the LA Times (source):
The magazine instilled in me a habit of mind, a way of thinking about a world rife with false fronts, small print, deceptive ads, booby traps, treacherous language, double standards, half truths, subliminal pitches and product placements; it warned me that I was often merely the target of people who claimed to be my friend; it prompted me to mistrust authority, to read between the lines, to take nothing at face value, to see patterns in the often shoddy construction of movies and TV shows; and it got me to think critically in a way that few actual humans charged with my care ever bothered to.
As I'm old and a bit under the weather this week – though temporarily lucid thanks to behind-the-counter pseudoephedrine – if I end up rambling… that's my excuse. Anyhow, I've been getting emails from two different camps in the past few months:
Don't put your money in US Treasury bills, that's risky. Haven't you heard about the debt limit crisis?
Don't put your money in non-huge banks, that's risky. Haven't you heard of those bank failures? You should keep your money in US Treasury bills.
Am I worried about the US debt limit?
No and yes. No, I am not worried that my Treasury bonds (and money market funds based on Treasury bonds) will fail to be paid back with interest. In fact, I've thought about buying some of those affected short-term T-Bills, but it wouldn't be much additional benefit for my small amounts.
Yes, I am worried that this signals a high level of disfunction between our elected officials. Imagine my partner and I already previously agreed to a mortgage for the house, an auto loan for both our cars, and put shared household bills on the credit card. Is the best way to make ourselves more financially responsible to threaten not to pay the debt that we have already agreed to take on? We should certainly examine our future expenses closely, and government spending is an important topic. But what is the point of threatening to ruin our collective credit score by not paying our existing bills? Is it honorable to openly consider defaulting on your debts? The US enjoys a lot of benefits from its top credit rating. I'm disappointed.
Am I worried about having my personal money deposited at non-huge banks?
No. As long as they are under the covered FDIC-insurance limits of $250,000 per depositor, per insured bank, for each account ownership category. Both of these things (NCUA/FDIC-insured bank deposits and US Treasury bonds) are backed by the US government, which has the power to create as much fiat currency as it likes. The FDIC is quite good at transitioning if a bank failure does occur. So I'm personally not worried about either thing. I just opened a relatively large 5-year CD at 5.00% APY at a small, friendly credit union in Oxnard, CA with only a few physical branches (deal expired). I hope they in turn lend it out to some small businesses in their area.
If you can get past the paywall, read this interesting Bloomberg article (close alternative) about the smallest bank in the US. One full-time employee (the CEO), a part-time teller, no ATM, no website. I kind of want to open an account.
The thing is, for a business with a huge cash balance that is over the FDIC-insured limits, then it indeed might be rational to move that money into the safest possible bank. You'd think that these sorts of problems would be solved by now. Berkshire Hathaway rolls billions of Treasury bills every month. But that's how it works sometimes. Problems are only faced after it becomes a painful issue. I believe they'll figure it out.