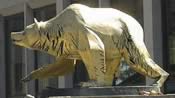 Earlier this week I got a very good question from a reader:
Last week I decided to take your advice and invest $4,000 in a Roth IRA. My Roth IRA holds only one fund: Vanguard Target Retirement 2050, which holds 90% stocks and 10% bonds. Unfortunately, my timing was terrible: in a mere 3 days, my initial $4,000 investment has already fallen to $3,800, and there seems to be no end in sight. I keep reading all of these pessimistic forecasts about a looming bear market, so I'm very worried about losing my $4,000 investment.

My question for you is: Am I overreacting, or is there something I should do to protect my investment? I don't need this money now; I invested it knowing fully well that I wouldn't reap the benefits of it for another 40+ years. If the market keeps going south, however, I'm worried that I'm going to lose most of my $4,000 investment. Do you think I should try to withdraw my remaining money from the Vanguard 2050 fund and invest it in something less risky? I know that you're generally opposed to attempts to "time" the markets, but I can't help feeling foolish for investing $4,000 in a fund containing 90% stocks without taking into account the current market conditions.
I think everyone from time to time will question their investments. Again, I'm not a financial professional, but here is what I call "brotherly advice" – as in it's the same thing I would tell you if you were my family.
1) There is virtually zero chance you will lose your $4,000. That's part of the benefit of having a widely diversified mutual fund. An individual company, even a huge company like Enron, MCI Worldcom, or E-Trade has the possibility of going bankrupt and becoming worthless. For a Vanguard Target Retirement fund to go to zero, we'd be in Stone Age 2.0 and your primary concerns would probably be food, shelter, and guns.
2) Remember your time horizon. You chose the 2050 fund, which theoretically means you won't need to withdraw for 43 years, and it seems like you're okay with that. So then the question is – do you think you will end up higher or lower than $4,000 in 40 years? Because that's what matters. If you think it will end up higher, then who cares what it's worth today, or next week, or even the next decade? If you haven't already, check out this chart.
3) Stop looking at your account. I'm a money geek, but I only look at my IRA accounts once a month to do my net worth updates. Honest! I have zero clue how I've done so far this month.
4) Risk = Reward. I know $200 seems like a big loss now, but really it's just part of the deal. If there was no ups and downs, there would be no extra gain. No risk = bank savings account. You want the ups and downs! Adjusting risk tolerance is a very tricky thing – people tend to have low risk tolerance when the markets go down, and high risk tolerance when the market is hot. Not good. I think the gradual decreasing of risk provided by the Target Retirement fund is a better way to avoid such conflicts.
If 2050 is truly your time horizon, I say stay put. I could go on and on about the behavioral reasons against market timing and pull fancy stats from historical studies, but the above simple reasons are how I convince myself to step back and keep calm. I've lost way more than $200 over the last few months, and I haven't sold a thing. If I do, I'll let you know. Don't hold your breath though. 😉