It looks like Presidential Bank's promise of online funds transfer capability has come to fruition. I see that it is a CashEdge-based funds transfer system, the same system used by Bank of America and HSBC. See the FAQ. Similar to BofA, only incoming transfers are free, outgoing transfers will cost $3.50. This makes me happy though, my two main everyday-use accounts are BofA and Presidential, and now I don't have to use an intermediary to transfer money between them either way. I need to update my Presidential Checking Review, which is getting dated.
I just added a bunch of external accounts, so I'll also earn a few bucks for all those 50 cent deposit verifications. Here is a screenshot of the announcement page I get after logging in: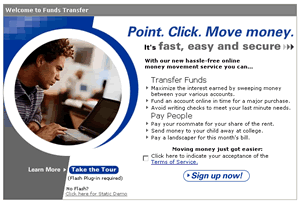 There is a daily transfer limit of $2,000 per day and $5,000 per rolling 30-day period. After you satisfy some more requirements and at least 3 months later, the limits get raised to a daily limit of $15,000.00 and a monthly limit of $25,000.00.
As also noted in the image, they also are offering a way to sending money online to people via e-mail. Sounds okay… not bad if you want to save your recipient some PayPal fees if you're paying online via checking account anyways. Update: Sounds pretty useless, actually, due to the $3.50 fee.
Update
After verifying accounts and looking at the actual transfer schedule, it looks like Presidential also has the same 3-day transfer time that HSBC Direct has, where your money is out of your outgoing account and not in your ingoing account for 2+ days and you don't get interest on the transferred amount in either place. Disappointing!