While our current cars are running fine (even though one is 11 years old), I find myself very intrigued by the new 2007 Honda Fit. One of many perky new compact cares, many people may assume that it's just a response to recent gas prices, but the Fit has been sold in Japan and around the world as the Jazz since 2001.
I like it because it just seems simple and useful. It's got decent seating room due to it's shape. Check out the different seating configurations, or 'modes', that it has. The rear seats actually fold flat like in an SUV, giving you lots of storage space. And it'll be easy to park.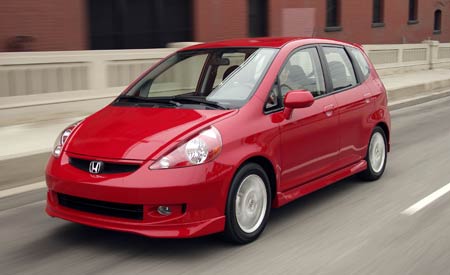 With only 109 horsepower, I'll miss my V-6, but from the reviews it seems to be adequately zippy. With the automatic they even offer paddle shifters! Probably a feature I'll never use past the first week, but neat nonetheless. The auto also gets an EPA 31 mpg city and 38 mpg highway. Not a Prius, but about double what I'm getting now.
Also, it's a Honda. Every Honda my family has owned has gone 100k miles easily without any issues (other than me crashing one of them as teenager :P). In fact, this car is about what a Civic used to be (namely, cheaper and smaller).
Finally, it costs only about $15,000, including stuff like ABS brakes, power windows, and CD player. In fact, going through the options list I can't really find any extras worth buying.
Of course, another part of me likes the Honda Pilot SUV. Third-row seating, DVD player to distract the kids, etc. Oh, and double the price. I like the rugged look of SUVs too, but let's face it, I don't need extra ground clearance or 4WD. I think a modestly sized 4-seater should plenty for a family of 4 or less.
(I also like to look at used Porsche's just for fun. Did you know you can pick up a '97 Boxster for about $15,000?)
(And, yes, I still want a beater truck, too)
Some Fit Reviews
Car and Driver Magazine
CNET.com
Automotive.com