This past week, I made some minor tweaks to my investments. No, I didn't go all cash! Previously, I had set the bond portion of my portfolio to be 50% short-term Treasury bonds and 50% Treasury inflation-protected bonds (TIPS). I use the mutual funds VFISX and VIPSX. However, this week I shifted my allocation to be 25% short-term Treasury bonds and 75% Treasury inflation-protected bonds (TIPS).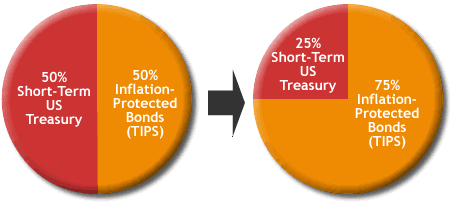 Comparing Yields to Find Expected Inflation
You can compare the nominal yield of the Treasury bonds and the real yield of TIPS and find the implicit expected inflation. For example, if a 20-year Treasury bond yields 5%, and TIPS yield 2% real, then the expected inflation is the difference, or 3%. (If inflation is 3%, then the nominal yield of TIPS becomes 2% + 3% = 5%.)
This week, the expected inflation over the next 10 years has been hovering around 1%, some of the lowest in a long time. On Monday, the 10-year Treasury yield was 4.08% and the TIPS real yield was 3.05% (source: US Treasury), for an expected inflation of 1.03%. As of Friday, the gap was 1.02%. For the 20-year bonds, the gap predicted inflation of a about 1.6-1.8%. If the actual inflation rate turns out to be greater than these values, then holding TIPS will result in a higher yield over time.
Here is a chart of annual CPI-U changes over time (source: BLS.gov). The red line is the 10-year moving average:
Yes, there are deflation worries in the near future, but you can see the only decade that inflation has averaged below 1% was during the Great Depression. Not only that, but our currency was still on the gold standard then.
Currently High Real Yields
As mentioned earlier, the current real yields offered by TIPS of around 3% are also the highest in many years: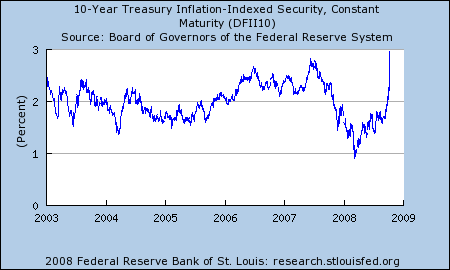 Since real yields are rising, the value of existing TIPS have actually dropped. So I'm buying low. 🙂 If real yields rise any higher, I'd buy even more.
Making The Change
There are many things to consider out out there, like global demand and the infamous $700 Billion bailout package (where do you think this money comes from?), but I only see more spending and borrowing down the road. With the printing presses available to go full blast, and lots of future promises made, I just can't see inflation being this low for a decade.
Combine this with the fact that TIPS have a historically high real yield, it would seem like the market is overreacting. Although I usually don't make such changes, I decided to go for it. So far, I have chosen not to go with 100% TIPS because I wanted to maintain some of the benefits of short-term treasuries, like lower volatility and low correlations with other assets. It's kind of tough though, as the yields are horribly low right now due to the flight-to-quality.
I haven't increased the target amount of total bonds in my portfolio, although due to the current drift and limitations due to juggling separate accounts, they are now 18% instead of 15%. I still believe in stocks as well due to their low valuations, and have also made equities purchases this week to re-balance that side of my portfolio. I am expecting to invest another $10,000+ before the year ends.