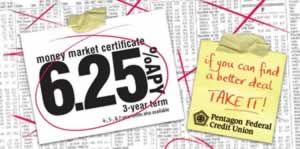 Pentagon Federal Credit Union is now offering a generous 6.25% APY rate on it's 3, 4, 5, and 7-year CDs (they call it a Money Market Certificate). These rates probably won't last, so if this looks good to you you may want to jump in now.
These certificates may be a good alternative to online savings accounts for your emergency funds or other accounts with medium-length horizons. Penfed only has a $1,000 minimum on each certificate, and has relatively lenient penalties on early withdrawals. I wouldn't use these for retirement savings if you're young, though.
Since this is a credit union, you must meet their eligibility requirements to join. Basically all members of the military and their immediate families are welcome, as well as many other military-related groups. Otherwise, the easiest way to join is through the National Military Family Associaton (NMFA). Membership costs $20/yr, and you don't need to renew in order to remain a PenFed member. There are some good benefits to being part of NMFA, such as scholarships, GEICO discounts, and helping support military families.
I've been a member for about 3 years now, and have been very satisfied with their customer service. They have other good financial products as well, including competitive mortgage loan products.