A relatively unpublicized new feature of buying your Savings Bonds online is the ability to cash out only part of your bonds, mentioned briefly here. I just noticed this recently, and explored it further in my account with my paper bonds that were recently converted to electronic format. Now that they are electronic – I can partially cash out those too! Apparently the only two restrictions are:
1) The minimum amount you can redeem is $25
2) The remaining value of the bond cannot be less than $25
Here is a screen shot of me trying to partially redeem my bonds: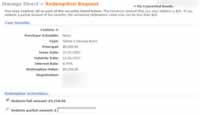 (click to enlarge)
As you can see, it's pretty straightforward. Just input the amount you want, and it's deposted in your bank account in a couple days. Pretty nifty. I gather from this that you can repeatedly cash out amounts as needed. This is easier than having to buy a bunch of smaller increments like 5x$1,000, although I suppose not by too much.