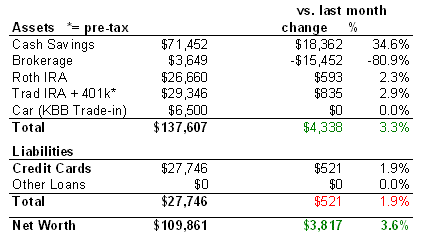 About My Credit Card Debt
Newer readers may be alarmed by my high levels of credit card debt. In short, I'm borrowing money for free and keeping it in safe investments while earning me interest. This help me earn some extra income of over $1,000 a year. Recently I put up a detailed series of posts on this 0% game. I don't pay any credit card interest.
More Thoughts
Although this was another good month overall, I am no longer working full-time and am back at school, so I won't expect things to be quite as nice the next few months. I will continue to do extra freelance work on the side. Spending was high this month due to my trip to Europe, where I tried to do things frugally while still splurging a bit.
I sold all my stock picks this month, and have started my goal of reading some active-investment books. They have not been very enlightening. My passive investment portfolio did well this month. I transferred $10,000 to my Self-Employed 401(k), the only deposit I plan to make for the year.
Looking forward, our financial focus remains to keep building cash for a house downpayment in approximately one year. We are also going to start to look for new jobs in a few months time, where we hope to both increase our salaries.