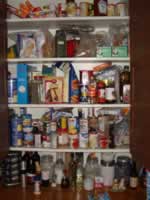 During our move, we were shocked by the vast amount of food we had stored away in our cabinets. In addition to staples like flour, sugar, and coffee, we have canned food galore, dried pasta, jarred sauces, rice, stuff like Rice-a-Roni; it was like we were stocking up for Armageddon! In addition, we always have a freezer full of ground beef, chicken breasts, Trader Joe's pizzas, and various home-cooked food from the in-laws. Which is why I still haven't tried out Dream Dinners. To the right is an actual picture of our cupboard.
So, other than milk and juice, we decided not to grocery shop for an entire month. Here's our planned menu so far, along with main ingredients:

Tonight
Meatloaf: Ground beef, ketchup, bread crumbs
Mashed potatoes
Corn
Thursday
Split Pea and Ham Soup: Easter ham bone, peas, onions, carrots
Corn
Friday
Trader Joe's Margherita Pizza (hey, it's Friday)
Saturday
Minestrone soup (from a can)
Linguine with white clam sauce: Pasta, clams, white wine, garlic
Oatmeal cookies: Oatmeal, flour, butter, sugar
Sunday
Fried Rice: Spam(!), eggs, rice, soy sauce
Corn and Ham Chowder
Monday
Chicken Parmesan: chicken, breadcrumbs, eggs, canned tomato sauce
Corn
Tuesday
Tuna Fish Sandwiches: canned tuna, mayo, capers, lemons
Corn
Did I mention that we have over 15 cans of corn?!
Right now the recipes are pretty standard, but I'm sure by the end of the month we'll be eating Pickle and Breadcrumb Soup or something. Still, I think it will really help us out by planning ahead so we can avoid saying "I'm hungry and I can't think of anything to make, so let's just go eat out". If I have to cheat a little, it'll be for supplementary ingredients to complete a meal, like fresh vegetables.
Some random items that need recipes:
Canned beets
Cranberry sauce
Imitation crabmeat
Six different half-used jars of jelly
This is very similar to Jose Ane's successful Pantry Challenge last month, except that we do have a can of Spam in our pantry. Spam rocks! It just has to be eaten in moderation. =)
And yes, it would have been smarter to do this before we moved. But whaddya gonna do?