It's time for a new mattress. Our current one was found 10 years ago from a university mailing list for $75. It's actually a nice mattress and the seller said it cost $400 new and was only a year old. I remember believing her because she lived in a luxury apartment complex and the top to her red Mazda Miata convertible was also in the apartment. Anyways, it served me very well for a decade, but now the bed is really starting to sag in the middle and I've been waking up with a sore back every morning.
In addition, we are having our relocation expenses reimbursed, so we figure buying now won't cost us any more, and we can avoid paying sales tax while still in Oregon.
Keeping in mind the previous story was my only mattress-buying experience, we set out to find a new place to sleep. After seeing an ad for $99/piece at a local mattress store, and decided to check it out. I figured, if $200 is cheap, then $500 should buy us a decent set, right?
Would I like to try laying down on a pillowtop? Sure… $1,500!
How about a Tempurpedic foam mattress? Nice… $2,500?!
Wait, what about the $200 set? Here it is… Yikes, you can feel every spring! This is supposed to be a new mattress? It might work for a guest room, assuming you don't like having visitors. Teaser mattresses… who knew.
After trying several beds with enormous price tags and being subjected to too many choices, we left. Next stop – trusty Costco! I was surprised to discover they even have their own Kirkland line of mattresses! But this one caught my eye – the NovaForm Queen Fresh Dreams Memory Foam Mattress on sale for $550.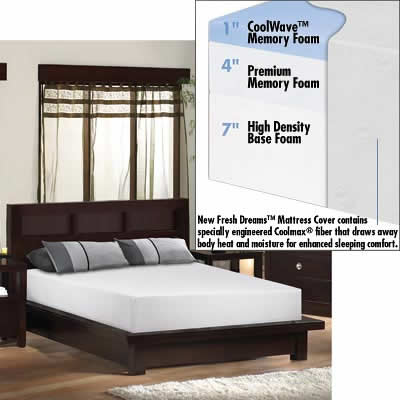 After reading a couple of online reviews, it seems like a solid bet. Older models had a certain smell to them, but the newer ones apparently don't. Also, there have been scattered comments about the mattress not expanding properly into a perfect box shape. Since it doesn't come with a platform, I know that I'll have to make my own or just buy a piece of plywood to put on top of our current boxspring since foam mattresses need to be on a solid surface.
Either way, I'm not too worried because of Costco's great return policy. I've read that they will even pick up the mattress again from you for free. I'll have to confirm that, but this is looking tempting. Anyone out there with any experiences with this mattress? I've heard great things about memory foam mattresses in general, and from my test-drives I think I would like them.
Another idea was to simply buy a $100-$200 foam mattress topper, and add that to my current bed. But since my mattress was already sagging, I decided against it. Costco does sell a basic Serta queen mattress for $400. Madame X over at My Open Wallet also bought a new mattress recently.