I was flipping through last month's Kiplinger's Personal Finance magazine when I came across an article about How to Beat High Prices on food, gas, and so on. Okay, timely topic, probably sold a ton of issues. Then the following sidebar "tip" caught my eye: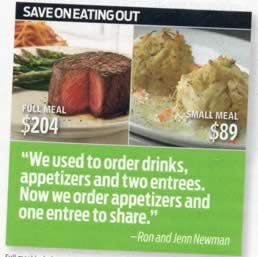 Who exactly is the target audience here? People who eat $200 meals at Ruth's Chris Steak House regularly and need advice on how to spend less? And their solution is to… eat an $89 meal. Genius!
If you've found some similarly awesome non-tips, send them my way.