The Federal Reserve recently released a report about about consumer payments [pdf], and it had some interesting results (at least to me). Via Business Insider. Here are the distilled highlights.
Cash is still the most frequently used form of payment, as measured by number of transactions. This is partly due to the fact that cash totally dominates for payments less than $10. In terms of value, electronic payments (online billpay and ACH payments using bank account numbers) have the largest share.

This next chart shows that debit card use is actually growing faster than any other form of payment: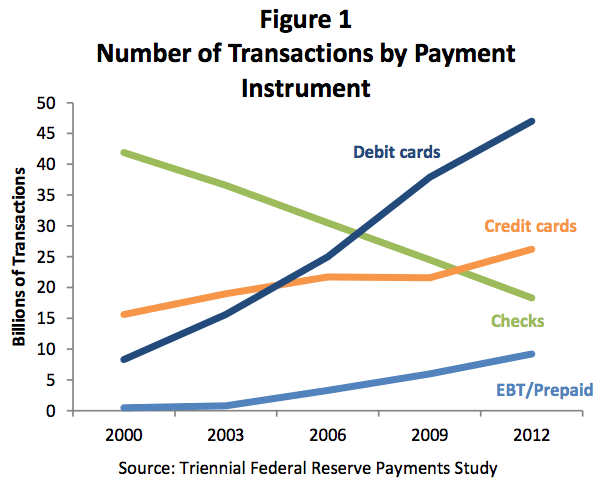 Overall, debit cards are also the most preferred form of payment… but it does vary with income. 55% of consumers with household incomes less than $25,000 per year prefer cash over anything else, while 66% of households making more than $200,000 per year prefer credit cards over anything else.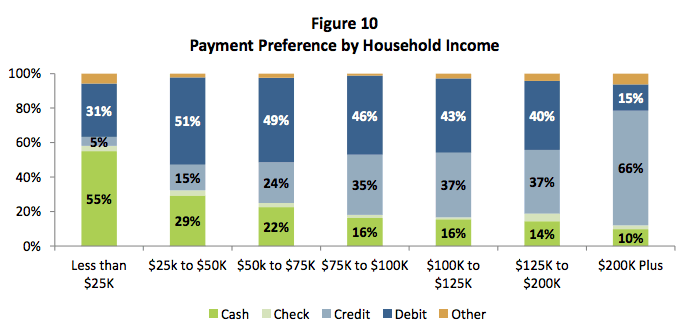 People seem to have an either/or relationship with debit cards and credit cards. You either use one or the other predominantly.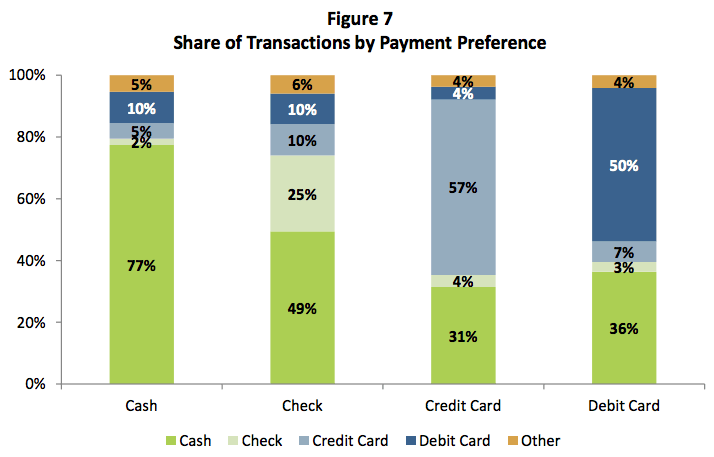 Initially, I was surprised by the popularity of debit cards. (I prefer credit cards and am one of those people who haven't used a debit card in years.) My hunch is that people think of debit cards as the closest thing to electronic cash. The money gets zapped out of your checking account and your balance decreases instantly. As long as you decline overdraft "protection", if you hit zero your purchase will be declined. I admit it does have the appeal of simplicity.
Although I treat my credit card purchases the same as cash and always pay in full each month, credit cards do come with more complexity and the knowledge that the credit card company is lying in wait in case you feel like taking on a little debt. But in return I earn cash back rewards, get better consumer protection against fraud, and enough sign-up bonuses to fly me around the world once in a while.