Here's a quick graph that I didn't include in my previous post on choosing between 15, 30, or 40-year mortgages…
I've always felt that loan lengths were a bit arbitrary. Why did 15-year and 30-year loans become the industry standard? It'd be just as easy to make a 25-year mortgage. So I took a step back and compared term length vs. monthly payment for a $300,000 mortgage at 5.5%. The result was interesting, and I would think the general behavior should be consistent across different loan amounts and interest rates: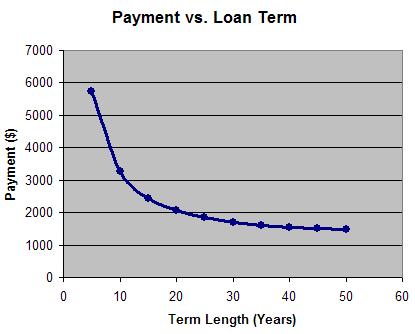 The graph shows that mortgage payment stops decreasing very much as the term goes past 20 years, and really starts to flatten after 30 years. If you use the 30-year as the benchmark, the 20-year payment is 20% higher, while the 40-year payment is only 9% less. Stretching even further from 40-years to 50-years only saves you another 5%.
Given this information, you'd think that having to get a 40-year mortgage should be a sign that you really can't afford that house. Yet according to Bankrate, 25% of all new mortgages in California are 40-year mortgages (nationwide it's more like 5-10%). This is partially due to the fact that pseudo-government Fannie Mae buys 40-year mortgages now. In fact, the mortgage industry has already rolled out 50-year amortizations for certain adjustable-rate mortgages. The next few years for housing should be really interesting…