One of the things I like to read when I get the itch for some stock market opinion (which isn't very often) is John Hussman's weekly market commentary. Not that he's always right, and I don't own any of his mutual funds, but I like to hear his reasoning. In this week's 6/8 post, he references a chart that shows us in a temporary lull of mortgage resets. The infamous subprime "wave" is past, but there is another big wave of option ARM and Alt-A resets ahead: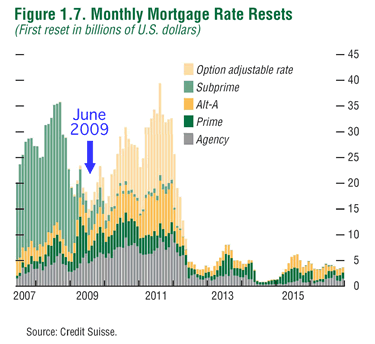 As I've noted before, recent months have represented a lull in the reset schedule, which was accompanied until recently by a moratorium on new foreclosures. Those foreclosures are now ramping up quickly, and a fresh surge in resets will add to the difficulties beginning later this year.
The chart originates from an IMF report entitled Assessing Risks to Global Financial Stability.
These upcoming resets may not be as bad as they are supposedly borrowers with slightly better credit profiles, assuming that enough people can refinance their mortgages to something they can afford. But it's kind of hard to refinance when you're upside on your house. Even I'm basically upside-down on my mortgage, and I had a 20% downpayment. Thank goodness I have a 30-year fixed, a steady job, and no desire to move!
I'm not changing my asset allocation by selling stocks or anything right now, but I'm also not getting too attached to these recent market gains. Plenty of uncertainty ahead!