There were some great comments on the NY Times buy vs. rent article, and many of them echo my own sentiments. Buying versus renting a house is a very individual decision. I do agree that the point of the article is that due to people's differing time horizons and job instability these days, buying could be a great idea, but is definitely not an no-brainer. Renting is not "throwing money away" when you are faced with a mortgage payment that's triple the rent and a 6% commission upon selling in a few years.
As the calculator suggests, the financial reality depends heavily on the rent/buy ratios in your neighborhood and how long you intend to stay.
When doing these rent inputs, you should really compare apples to apples. If you're comparing the rent on a 2-bedroom apartment and the mortgage on a 4-bedroom detached house, which is really where you want to be living? You can always buy a 2-bedroom condo or rent a 4-bedroom house.
Who cares if the "average" homeowner stays in their house for 5 years? It's you that matters. Some people are in volatile fields, or are young and want to live in hip urban areas for a short while, or just expect to move soon. This might tilt you towards renting. Others, like me, are moving to a specific city explicitly to live near family. We plan to stay indefinitely, possibly in the same house forever. Our brothers and sisters have lived in their first houses for the last several years.
Another big factor is what you expect your future annual home price appreciation to be. Historically, it's been about 5-6%. But since we've been seeing 10-20+% for the last few years, it would seem likely that the next several years would be below that 5-6% average.
However, the last time I checked, the U.S. stock market has also been beating it's 10% historical returns over the last few years. Does that mean we should assume lower returns the next few years? Some investors certainly think so, but the research shows that even professional money managers are horrible at such market timing.
In the end, I can try and make some predictions, but I don't want to make a big bet on them being right. My opinion is that I just want the damage to be small if I'm wrong. For example, let's look at an example graph from the calculator for a $500,000 house: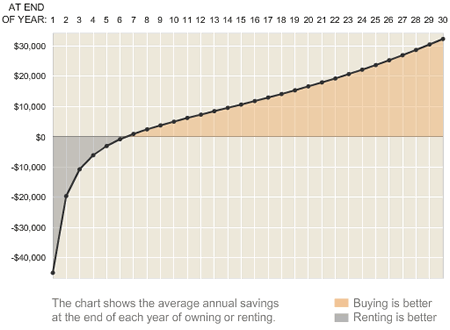 Ignoring my specific inputs, let's just focus on the fact that the break-even time shown is about 6 years. This 6 year number is the result of about 10 different guesses. Still, there is a period of +/- 2 years where the difference between renting and buying is not horrendous. A person's feelings about such intangibles like a love or hate of doing home improvements could sway them in either direction.
As for us? The plan remains to buy a home towards the end of this year. I haven't shared the neighborhood, so nobody can tell us if it's a good or bad decision yet 😉