(This is the sixth in my series of Model Portfolio Comparisons.)
Paul Merriman also runs his own money management firm. He also writes at FundAdvice.com, which has a lot of interesting articles about investing in no-load mutual funds, with and without market timing. Here is the breakdown of their "Vanguard balanced buy-and-hold portfolio".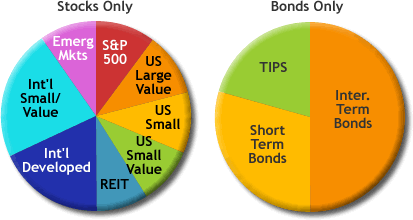 Asset Allocation For 60% Stocks/40% Bonds
6% S&P 500
6% US Large Value
6% US Small
6% US Small Value
6% REIT
12% International Developed (Pacific + Europe)
12% Int'l Value
6% Emerging Markets
20% Intermediate Term Bonds
12% Short Term Bonds
8% Inflation-Protected Securities (TIPS)
They have other suggested buy-and-hold portfolios for different brokerages, which vary slightly but are still very similar. I find it interesting that the stock portion is perfectly 50/50 domestic/international.