During World War II, victory gardens were small gardens in civilian homes started in order to support the war effort. Now it looks like the new term is "recession gardens", as people try to reduce costs and increase their green factor. So many trendy names for a backyard garden!
We started out with rosemary, oregano, and thyme growing in a little planter that came with the house, which basically grows wild without any help from us. In addition, my wife started a little container garden on the back porch, and we've been eating the tasty results for the last month.
According to this CNN article on recession gardens, we are not alone:
W. Atlee Burpee & Co., the largest seed and gardening supply store in the country, says it has seen a 25 to 30 percent spike in vegetable seed and plant sales this spring compared with last.

The National Gardening Association expects 43 million American households to grow their own fruits, vegetables, herbs and berries this year. That's up 19 percent over last year, according to a 2,559-household survey the group conducted in January.
How much money can you really save with a garden?
Last year, Burpee released a report saying a family will get an average 25-to-1 return on its investment in a garden. So, by that count, a family that spends about $200 on a medium-to-large garden, as Michelle Obama reportedly did, will save $5,000 in grocery bills over the course of a year.

That statistic is inflated, said Mike Metallo, spokesman for the National Gardening Association. Metallo's group says a $70 investment in a garden will yield $600 in produce for the year. To get those savings, a gardener has to know what to plant, when to plant it, where to plant it, how to deal with different soil types and how to care for the garden.
Keeping It Simple: Basil and Tomatoes
I don't know about all that, but we started small by only devoting one old medium-sized pot to this effort. We thought about our favorite vegetables, and I figured that the most expensive ones were always tomatoes and fresh sweet basil. We love making our own pesto, caprese salad, and bruschetta topped with olive oil, tomato, and fresh basil.
At the supermarket, one tiny little packet of fresh basil (0.66 ounces) cost $2. Instead, we went to a local nursery and bought an entire basil plant for $2. Add another $10 for some potting soil and some recommended chicken manure as "organic" fertilizer that may last us years, and we were all set. A few months later, and I was amazed at the results. We just ate most of our (small) tomatoes, but here is our basil plant: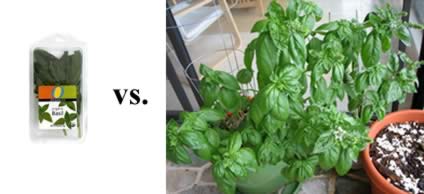 The neat thing is that this could be done inside, or on the patio of a small apartment. The savings won't be enormous, but neither was our effort. Most importantly, the basil is both fresher and better tasting. Now we can expand our garden-inspired menu beyond rosemary roasted chicken and potatoes. All the credit goes to Mrs. MMB, who did all the work and also discovered that you can crumble in some egg shells for added nutrients and to keep out slugs (that's the white stuff).
Update: Salon.com also has an article on recession gardens.