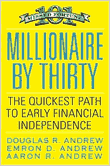 The overall moral of this book review is that even though a book finds a publisher, it doesn't mean the advice is accurate or applicable to you. The book Millionaire by Thirty: The Quickest Path to Early Financial Independence by Doug Andrews & Company appears to be very similar to the other Missed Fortune books by the same author. In fact, from reading the reviews all of these books seem to contain the exact same material.
The book starts out innocently enough, talking about familiar concepts like focusing on your strengths, paying yourself first, spending less than you earns, and it even provides an explanation of the "envelope" system of budgeting. However, it then quickly shifts into the two main points of the book, both of which I have issues with. Too bad, I only have a few months until I'm 30 and I could use another $742,000…
Housing Prices Always Go Up, Take Out Largest Mortgage Possible!
"Do you rent? Rent is like throwing money down a black hole. It doesn't matter how much money you have saved or how long you plan on staying in the same place, you should always try to buy a home. If you aren't going to stay very long you can simply get an adjustable-rate loan with no down payment. Housing prices always go up, so you can enjoy the low interest for a couple of years, and then sell and make a nice profit.
If you are really smart and disciplined, you can even get an interest-only or negative-amortization loan because then you won't build up any equity at all. Accumulating home equity is bad. Anytime you have any, you should take out a loan on it and invest it somewhere else, like a second home."
The above are all the dangerous generalizations about real estate contained in this book. Newsflash… Renting can be the best option for many people. Housing prices do not always go up. Thousands of people who bought a home and now have to sell after a few years will have lost tens of thousands of dollars compared to if they had rented.
Don't Invest In 401ks and Roth IRAs, Buy Universal Life Insurance Instead
Throughout the book, tax-deferred plans like 401(k)s and IRAs are dismissed, saying that you should not contribute to them unless you have at least a 50% match, and maybe not even then. Why? 401(k)s and Traditional IRAs are taxed upon withdrawal, and the Roth versions use contributions that are already taxed. In other words, both types will be taxed at least once. Also, there can be penalties for early withdrawal, even though there are ways around these.
Instead, the book repeatedly hints at a mysterious alternative investment that is completely tax-free: at contribution, during accumulation, and at distribution. This investment turns out to be equity-indexed, universal life insurance.
How are contributions tax-free? It turns out that they want you to take either a larger mortgage or home equity loan, and using that to fund the life insurance plan. Because mortgage interest is often tax-deductible, he counts this as a "tax-free" contribution. Huh?? I could put the same borrowed money into a Roth IRA or anything, and call it a tax-free contribution.
However, it appears to be true that after a few years due to an apparent loophole in the tax law, you can take out "loans" from a universal life insurance policy tax-free. This simply reduces your death benefit when you die, unless you repay the loans. There are withdrawal limits, but can we use this to our advantage?
Equity-Indexed Life Insurance, Risk and Performance Concerns
The pitch is always the same for equity-indexed insurance. You can never "lose" money like it can in a stock market, but if the market goes up your investments will go up with it. There is usually both a cap rate and a guaranteed rate. For example you might get a 15% cap and 1% guaranteed. If the index goes up 30% you get 15%, but if it goes down 30% then you still get 1%. Not bad at first glance.
Catch #1: You Miss Out On Dividends When you invest in an index fund like an S&P 500 index fund, you get both the return of the index (capital gains) and also the dividends that are paid out. The average historical dividend yield over the last century has been ~4.5%. Currently, it is about 2%. Since the index does not include dividends, you are automatically losing that portion of total return. If the total annual return on the mutual fund was 8% and there were no additional costs, then the indexed-return on the insurance balance would only be 6%.
Catch #2: You Don't Get All The Capital Gains Either
Consider this – If the insurance companies are indexed to the same thing we can buy and they offer us downside protection, this will always come at a price. There is simply no way the annual expenses of such a high-commission, salesperson-promoted product like this can be as low as that of a similar index fund. Details on how each universal life insurance policy tries to "participate" according to stock index vary widely, so I can't run the exact numbers based on historical returns.
However, you can get an idea of the lost performance from this Scott Burns article regarding an earlier book by Mr. Andrews:
Using a 30-year history of the S&P 500 index ending in 2005 and a common formula for crediting returns, he says that a policy crediting 1 percent in loss years and 100 percent of gains up to 17 percent in good years would have provided an average crediting rate of 9.62 percent. […] Even after subtracting the cost of insurance and other policy expenses, such as the commissions that would enrich all of his disciples, he estimates that your net return would be 8.5 percent…
8.5% sounds nice. Now what was the total return of the S&P 500 from 1976-2006? 12.7 percent annually. If you had $100,000 in a tax-deferred account like a 401(k) invested at 12.7% annually for 30 years, you would have $3,611,748 vs. the $1,155,825 tax-free from the insurance. Even you paid 40% in taxes upon withdrawal, you'd still be over $1,000,000 ahead with a regular 401(k).
Simply put, you give up a lot of potential return. Just because something is "linked" to the stock market, doesn't mean it will return anywhere near the same amount. If you are truly saving for retirement and are relatively young, then you have a long-term time horizon and do not need such risk-reducing products that include a guaranteed rate.
In all 62 of the 20-year investing periods from 1926 to 2006, an investment in large stocks produced a positive return. The worst return was 3.1 percent annually for the 20-year period beginning in 1929 and ending in 1948. In other words, even investing on the eve of the Great Depression produced a higher long-term return than the guaranteed minimum return of equity-index products.
Arbitrage Gone Bad
Finally, recall that a significant part of this insurance is supposed to be funded by a home equity loan, where you can earn more interest from this investment than you are paying in mortgage interest. Arbitrage! Okay, but if the market only returns 8% including dividends which is 6% without dividends, and you then factor in the expenses of this insurance layer, you are maybe looking at a 5% return max. If you are paying 6% in mortgage interest and earning 5%, you're now losing money.
Now, there may be a small slice of the population that may be best served by this product. But it's definitely low on my list, and definitely not until you have maxed out tax-advantaged accounts like 401ks and IRAs. Even after that, I would first investigate either tax-managed mutual funds or a low-cost variable annuity from Vanguard.
Summary
Many of the books I read may not be brilliant, but they contain generally good ideas and target a specific type of reader. However, this book is one that could actually hurt more people than it helps. This book is just plain misleading. It would be wonderful if home prices always went up and there was an investment where I could never pay taxes, have no downside risk, and get stock-like returns, but unfortunately both are too good to be true. I've tried to lay out my arguments for this briefly, but if you want a better description read the detailed reviews here and here. Clever Dude also shared his thoughts here.
Short version: Don't read it, don't buy it, don't even borrow it from the library.