You and your significant other love each other. Still, I bet there is still something that one of you loves spending money on that the other simply doesn't see any value in. It might be manicures, gadgets, designer clothes, online poker, or Star Wars collectibles. If you have joint finances like we do, this can cause some resentment. Why is our money being spent on Yoda PEZ dispensers??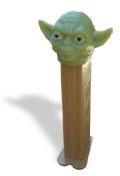 One possible solution to relieve such stress that we are currently trying out is the Adult Allowance, where each person is given a certain amount of money that they can spend with no questions asked. I've seen it in a few places, including Him and Her over at Make Love Not Debt. No rolling your eyes, no passive-aggressive sighs, no exasperated "Why would anyone buy that?". Actually, one annoying question from me is "Why didn't you let me spend 10 minutes researching the best deal for your XXX purchase?" The idea of paying more than needed may cause me physical pain, but why should I let that ruin her purchase?
Yes, this is essentially budgeting, but many couples view budgets as tedious and restrictive. I see this as a specific subset of budgeting which focuses not just on the ability to track spending, but the freedom of enjoying your spending without guilt. This may be a good place to start if one of you is spender, while the other is a saver.
On a technical level, some people use cash in envelopes, while other use completely private and separate bank accounts. That way, after you run out of money there's no going back for more. However, we're keeping it simple and just tracking it on the honor system.
We mentioned this to some of our friends, and some of the responses were the expected "An allowance? Whoa, that's harsh." But one of the couples actually implemented it for themselves as well! It turns out that the guy was getting some flack for driving around his gas-guzzling 4WD beast around instead of the econo-box they also own. Now, he's been given a monthly gas budget each month so he can still have fun, while she can feel that the gas bill is under control.
What do you think about adult allowances? Good idea for resolving potential conflicts? Or unnecessary for those in a good relationship?