I've been investing with LendingClub for over two years now. They securitize person-to-person loans so that you can lend money to other people in $25 increments, and you collect the interest after some fees. The stated interest rates are about 7-16%. On their home page, they boast of very impressive returns:
If you had invested $10,000 in Lending Club Notes in June 2007 (when we started issuing loans) and continued to reinvest your returns, you'd have made over 9.5% net annualized returns to date, outpacing a high yield corporate bond index, the NASDAQ, S&P 500 and even 1-3 year treasuries.
While I can only assume this statement is technically true, you have to remember that the way they state the numbers includes a lot of new loans that have not had a chance to "age" until maturity. LendingClub notes are all for a three year term. It would be more informative, in my opinion, to specifically look at the return of only loans that have completed. Since LC is so new, how about as old as possible.
For that, I go to the Statistics section. I should point out that the date range is for the origination date of the loans. The observation date is today. Accordingly, the default view of "Show All Time" shows every single loan from mid-2007 until today. Again, this includes a lot of new loans, many of which are impossible be classified as defaulted yet (must be 120+ days late). Instead, let's narrow down the origination dates so we can look at loans of a set age.
June 1, 2007 to December 31, 2007
We'll start with the loans that originated in 2007, their first year of operation. Even though these loans aren't all completely done, they are the oldest loans available with an average age of about 2.5 years. Here are the average returns and average interest rates, sorted by credit grade: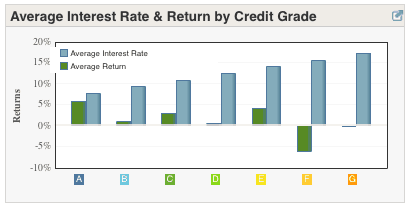 Here are the average returns by loan amount: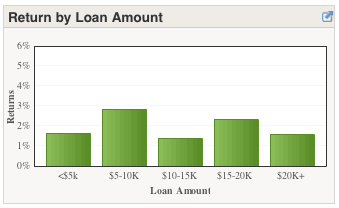 The interest rates being charged (blue) are predetermined by LC, and as you'd expect they increase as credit quality decreases. However, the returns (green) are not what you might expect. Grade A loans appear to have performed the best, but other than that there is no real direct relationship between return and credit grade. I see no clear relationship between loan size and return, either. Most importantly, by visual estimate, the average return for all of these loans is only approximately 2%. This is way off from 9% returns.
(Read on for more…)

January 1st, 2008 to May 31st, 2008
Now, let's take a look at all the loans that originated in the first half of 2008. This means that they're about 2 years old now, give or take a few months.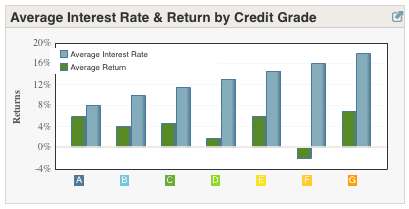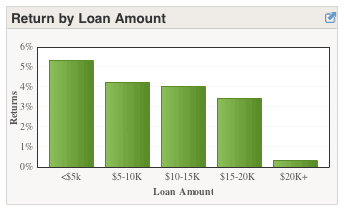 By visual estimate, the average return for these loans is only approximately 4%. This is still much lower than I would have liked to see, and it indicates that return does continue to drop with age.
Again, there is no apparent relationship between return and credit grade. The returns ranged from negative 1.9% to 7%. Surprising, the lowest G grade has the highest average return. It could be that the credit-worthiness was not predicted correctly, or it could be the sample size is too small. Out of all the loans funded, only 1.7% have been graded G. (72% of loans were graded A, B, or C.) For this period, you can see a trend that the larger the loan size, the lower the return.
As a quick parting comparison, the Vanguard High-Yield Corporate mutual fund (VWEHX) invests in "junk" corporate bonds and also had a very volatile recent few years. The trailing 5-year annualized return is 6% after expenses. I don't know how to compare volatility directly, but the best 3-month return was +15%, while the worst 3-month return was -25%.
Summary
There is a lot more I could do with all this data, but what is above supports my opinion that the advertised 9.6% return is not something that you should expect. Loans that are almost three years old average an mere 2-4% annual return. The high advertised return seems partially due to the new loans which will always easily average 11-12%, as they haven't had time to default. While this is still better than some alternative investments, keep in mind the risks over time that you are taking. I'm still an investor myself, but I'm adjusting my expected return.
Loan diversification (increasing number of loans) helps smooth out returns. There looks to be a slight tendency for higher credit quality loans and those with smaller loan amounts have better net returns.
New Lender Incentives – Free $25 to $250 Bonus
If you are interested trying P2P lending with no risk, you can still use this special $25 lender sign-up link to get a free $25 to try it out with no future obligation. There is no credit check and you don't even have to deposit anything. After you are approved, the $25 will show up in your account balance, and you can lend it out immediately.
If you've done your research and are willing to jump in with both feet, those that are willing to invest at least $2,500 at once and link a bank account can get a $250 bonus when you get a referral from an existing member. (Yes, you must actually invest $2,500 in loans.) Send me an e-mail if interested.
You can also view my personal LendingClub portfolio details here.