Wow… The last time I wrote about LendingClub was about 6 months ago. Since then, I haven't really been keeping up with person-to-person lending, which in this case are unsecured credit card-like loans between individuals. Looks like they got a new logo and revamped their website! I kind of miss the old Halloween colors.

Lending Club Portfolio
Back then, I had 62 loans outstanding, of which 58 were current, one was 30+ days late, and three were paid off early. Today, my portfolio has 90 loans, of which 77 are current, three are 30+ days late, one was charged off completely, and 9 have already been paid off early. My current invested principal is ~$1,800, and I've received over $1,100 in payments already (principal + interest). The new loans must have been acquired close to October, as I don't even remember the last time I logged into this account. I suppose that's good in terms of it being a low-maintenance investment. 🙂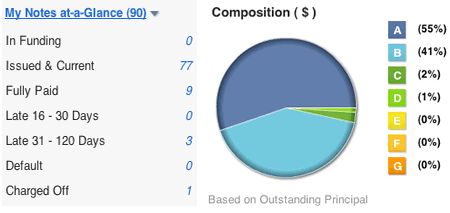 Performance & Commentary
In the last 6 months, my portfolio's "Net Annualized Return on Investment" based on my interest payments received went from 9.14% to 4.45%. LendingClub puts me in the sad 12th percentile of investors:

What happened? Some bad loan-picking, perhaps some bad luck, but mostly age. The sharp drop itself is due to my recently charged-off loan and how their return calculation takes into account late loans. A "late" loan will affect your calculated return because you're not receiving those monthly payments. On a $100 loan that might be $3.xx a month. But most late loans eventually turn into defaults. After 120 days late or so, LC will officially recognize the fact that you'll never see the rest of your $100, and your return will suffer accordingly. Quick example – If you have 50 equal-sized loans, and two go bad immediately, that's 4% of your principal gone.
As I stated before, if you have loans that are younger than 1-2 years old, do not expect your current return number to be your final return to maturity. One major reason why the advertised average return is so high, is that the average investor has very young loans in their portfolios. My oldest loan was issued back in December 2007. If you just look at the loans that are already 2 years old (full term is 3 years), you'll see that the average return is only about 4-5%.
This doesn't mean investors won't still capture some risk premium for their loans, but I wouldn't expect 9% returns over 3 years. This is not a low-risk investment, even though I still like the idea of making some fun and helpful loans. With much more data now available, I'll be looking more into performance trends in a future post.
New Lender Incentives – Free $25 to $250 Bonus
If you are interested trying P2P lending with no risk, you can still use this special $25 lender sign-up link to get a free $25 to try it out with no future obligation. There is no credit check and you don't even have to deposit anything. After you are approved, the $25 will show up in your account balance, and you can lend it out immediately.
For those that have done their research and are willing to jump in with both feet, those that are willing to invest at least $2,500 at once and link a bank account can get a $250 bonus when you get a referral from an existing member. (Yes, you must actually invest $2,500 in loans.) Send me an e-mail if interested.
If you're looking to borrow at LendingClub, it's relatively straightforward. Give some information, and see what interest rate they offer you. Compare it with your credit card, Prosper, or other financing options. If you like it, fill out your application carefully (verify income if possible) and go for it. If you don't like the rate or the full amount is not funded, you can either accept partial funding or walk away with no obligation.