I have thought about signing up for a prepaid tuition plan, as I am leaning towards conservative investments for college savings. Lock-in tuition now, and don't worry about future hikes. However, it appears that even though 18 states have pre-paid tuition plans, only seven of them actually guarantee them – Florida, Maryland, Massachusetts, Mississippi, Texas, Virginia and Washington. (The image below says six, but the article was corrected later to add Virginia.)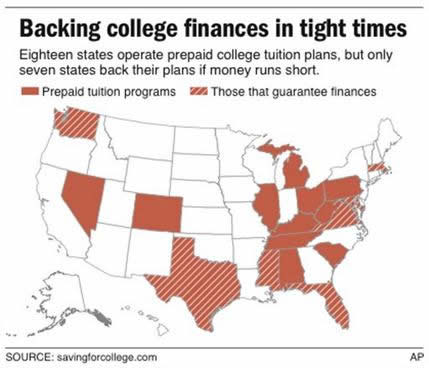 Currently, the plan hurting the most publicly is from Alabama, called the Prepaid Affordable College Tuition Plan (PACT). The plan's asset value dropped from $899 million in September 2007 to $463 million at the end of January, nearly a 50% drop. Why? Because they invested over 70% of their assets in stocks, and also assumed a consistently high rate of return:
According to an actuarial report on the fund filed by the state in January 2008, the fund's managers then as­sumed a rate of return of about 8 percent until 2013, and 8.5 percent after that. That report also found that the fund's liabilities exceeded its assets by about $20 mil­lion.

According to fund docu­ments, 42 percent of its assets, as of March 2008, were invested in large market capi­talization domestic stocks, 9 percent in small market capi­talization domestic stocks, 21 percent in international stocks, 26 percent in domestic fixed-income securities and 2 percent in cash.
48,000 families who were invested in the plan got letters earlier this month that the plan may have trouble meeting its future obligations. To make things worse, their brochures actually once stated that it was guaranteed by the state of Alabama, until later on it was found that wasn't possible due to state law.
I don't know about you, but isn't a guaranteed return the entire point of prepaid tuition plans? I commit money now in order to know that I can afford tuition for my child in the future. I give up the chance for higher returns elsewhere. Otherwise, it's like heads they win, tails you lose. High returns, they keep the difference. Low returns, they say "oops we got no money".
Also reported to be in trouble are the programs in Tennessee, South Carolina, West Virginia and Washington. Finally, I also found this article which stated that although guaranteed, the Texas plan had a projected shortfall of $206 million.