There's always a lot of interest for home-based businesses with flexible hours. (Why wouldn't there be?) Here's one unique example that I drove past today on a busy local street: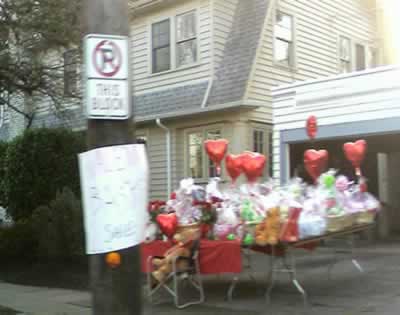 In case you can't make out the sign, it says "Valentine's Baskets – Sale". Sorry for the blurriness, it was taken with a cell phone. I circled around for a second look, but I didn't stop so I don't know how much they were. The gift baskets seemed nice, with teddy bears and balloons and such. I wonder if they were from last year's After-Valentine's clearance sales, or if they were handmade. There's a business idea – take advantage of after-Christmas/ Thanksgiving/Easter/Valentine's day sales, bunch up the cheap knickknacks, and make them into gift baskets for next year. I would probably look into a better venue than selling from your driveway (eBay? local craft markets?).
Although I am skeptical that they will be very successful, I might stop by tomorrow to chat with the entrepreneurial homeowners to see what their motivation was (and maybe suggest they make a more legible sign).