How would you like to get returns linked to the S&P 500, with no chance of losing a penny? You can with the Index Powered CD, a certificate of deposit being sold by a variety of smaller banks including Brentwood Bank. While the concept has been around for a while, it has been enjoying renewed popularity was people continue watching their 401(k)s shrink. Unfortunately, this is yet another product that uses clever marketing to hide important details from the less vigilant public. Here's the pitch:
"Enjoy the stock market's ups and not fret about the downs"!

The Index Powered® CD is a new FDIC insured certificate of deposit tied to Standard & Poor's 500 Index. The Index Powered® CD was developed with today's investor in mind and is available exclusively through community institutions. Enjoy the peace of mind of having your principal guaranteed and FDIC insured (up to $100,000.) while offering the potential higher returns of the stock market.
What The Average Person Thinks This Means
If the S&P 500 goes up a lot, I'll match that return. If the S&P 500 drops – hey! – I'm FDIC insured so I can't lose my money. Sign me up!! Let's say this is a 1-year CD and here are the values of the S&P 500 for that year.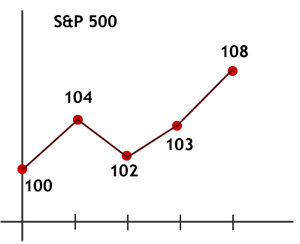 It starts at 100 and ends at 108, so you would expect your CD with a "100% Market Participation Factor" to return… 8%, right? Unfortunately, if you spend the time to read the 17-page disclosure statement, you'll see that it is not true. To put it bluntly, they manipulate the definitions to their advantage.
What It Really Means!
The problem is that I can say something is "tied to the S&P 500" or "linked to the S&P 500" without actually getting the full return. While they tweak many of the definitions, in particular this sticks out. "Closing Market Value" is defined as "the arithmetic average of the closing values of the S&P 500 Index on the Pricing Dates." This changes everything. Using the example above again we'll use the values given:

By their definition, the "closing market value" was 103.4, and your starting value was 100. (Yes, the 100 is included in the average!) So your actual return would be a piddly 3.4%. Not exactly what you expected, huh?
And you know what? The S&P 500 Index they use doesn't include dividends! That's another 2% of annual return you're missing out on.
There is no free lunch here. Not only do you on average less than half of the actual S&P 500 return if it does well, you also risk getting much less interest than a conventional fixed-rate CD if it does poorly. You cannot eliminate downside risk without giving up upside potential. Finally, this is actually a 51-month CD with heavy early-withdrawal penalties.
(For those that like "efficient" portfolios and optimizing risk/reward, here you are essentially taking on added volatility with no increase in expected average return. See my comment below for more details.)
Get your goals straightened out. Either you (1) have a short-term horizon with low risk tolerance and should get a conventional bank CD with a fixed guaranteed rate, or you (2) have a long-term horizon and are willing to accept the risk and full return of a S&P 500 index fund. Even if you don't want to be 100% S&P 500 index and want less volatility, using a mixture of stocks and bonds would be the a much more cost-effective way of achieving this.
Again, I'll avoid the word "scam" because this is technically a legal product, but the best weapon against such products is education. Know what you are buying and tell others!